a
Naval Forces News - Saudi Arabia
Royal Saudi Navy Al Madinah-class Frigate Damaged Following Attack by Houthi Militia Off Yemen
A Royal Saudi Navy Al Madinah-class Frigate has come under attack by Houthi militia yesterday while patrolling off the Western coast of Yemen in the Red Sea. The Houthis released an edited and low quality video of the attack as well as a statement mentionning a missile attack, but the Saudi-led coalition forces confirmed in a statement that the Frigate was attacked by three suicide boats.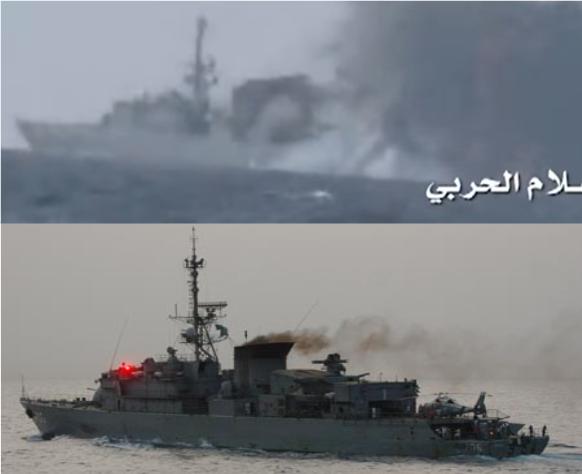 Royal Saudi Navy Al Madinah-class Frigate after the attack (top picture). Picture via @

JosephHDempsey

twitter

The video shows that the Frigate was hit at the stern, resulting in an explosion and a fire. The crew was able to extinguish the fire but two members of the ship's crew were killed in the attack while three others were injured.

"The Saudi ship has continued its patrol duties in the area of operations, while the air force and the coalition forces' ships continued to chase the fleeing boats to deal with them," the statement read.

"The command of the coalition asserts that the continuation of the Houthi militias' use of the port of Hodeida as a launching pad for terrorist operations is a serious development that would affect the international navigation and the flow of humanitarian and medical assistance into the port for Yemeni citizens," the statement added.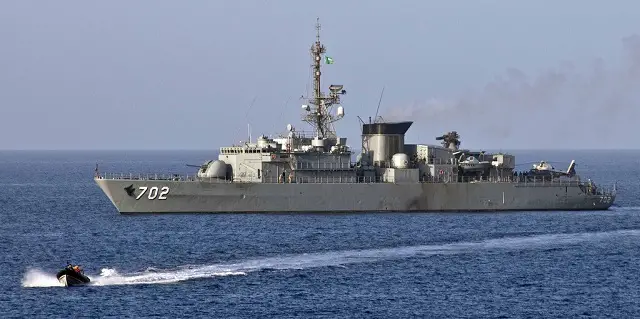 Royal Saudi Navy Al Madinah-class Frigate
There are four Al Madinah-class frigates in the Royal Saudi Navy fleet. They belong to the Western Fleet (Red Sea). They were built in France in the mid-1980s. Their full load displacement is 2,610 tons. They are fitted with eight Otomat anti-ship missiles, one Crotale surface-to-air missile launcher (with 8x missiles on the launcher), one 100mm main gun, two 40 mm guns, four torpedo tubes, an helicopter deck and hangar to accommodate one AS565 Dauphin helicopter.

This is not the first attack against surface vessels in the region. In early October last year, United Arab Emirates Naval Forces operating HSV-2 Swift were hit by a C-802 anti-ship missile, disabling the catamaran vessel.

A few days later, US Navy vessels USS Mason (DDG-87) and USS Nitze (DDG-94) came under anti-ship missile fire on October 9th and 12th. The use of SM-2 and ESSM missiles as well as ECM countered the salvo of anti-ship missiles in both cases. The US Navy conducted a retaliatory strike with cruise missiles on October 13th.