a
Naval Forces News - Russia
Russian Navy Project 12700 Alexandrit-class MCM Vessels to Use USV for Coastal Mine Detection
Russia's Project 12700 mine sweeper with the fiberglass plastic hull will detect advanced mines able to bury themselves into the sea bed, Russian Navy Deputy Commander-in-Chief for Armament Vice-Admiral Viktor Bursuk said.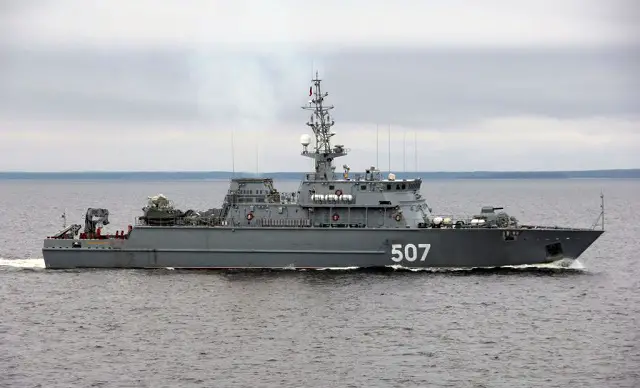 The first Project 12700 Alexandrit-class MCM vessel.

Picture: Sredne-Nevsky Shipyard



The Project 12700 mine sweeper will also use unmanned boats, he added.

"The ship is designed to sweep for mines currently used by potential enemies and the navies of world powers rather than the mines planted during the Great Patriotic War," Bursuk said.

"The talk is about the fight against smart bombs able to bury themselves into the sea bed and be invisible for ships without special equipment," he added.

According to him, Project 12700 mine sweepers are expected to make up the mainstay of the Russian Navy's anti-mine defense forces "for several dozen years to come."

"The design thought does not stand still. In particular, the third Project 12700 mine sweeper Ivan Antonov will use an unmanned boat that will sweep for mines in shallow waters autonomously," CEO of Russia's Almaz Central Marine Design Bureau Alexander Shlyakhtenko said.

According to Bursuk, only ships of the type will be built for the mine-sweeping forces as they have a standard size and are furnished with advanced mine-detecting equipment.

The ships of project 12700 Alexandrit are a new generation of mine sweepers. The fiberglass hull considerably decreases the weight and extends the life cycle. The warships can fight mines with various flails, tele-guided and autonomous unmanned underwater craft.



© Copyright 2017 TASS. All rights reserved. This material may not be published, broadcast, rewritten or redistributed.