a
Naval Defense News - USA
General Atomics Celebrates US Navy Commissioning of Aircraft Carrier USS Gerald R. Ford
General Atomics (GA) attended the U.S. Navy's commissioning ceremonies of the USS Gerald R. Ford (CVN 78), the first of a new class of technologically advanced aircraft carriers joining the Fleet. GA-EMS Electromagnetic Aircraft Launch System (EMALS) and Advanced Arresting Gear (AAG) are installed on CVN 78. In addition to the USS Gerald R. Ford, GA-EMS is the sole source provider of EMALS and AAG for the future John F. Kennedy (CVN 79) and Enterprise (CVN 80).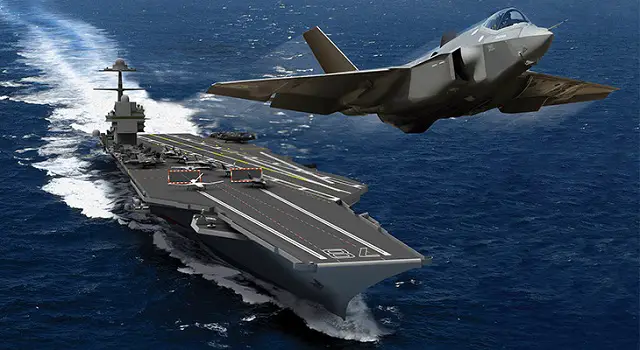 Electromagnetic Aircraft Launch System (EMALS) was fitted first onboard head of class USS Gerald R. Ford. Picture: General Atomics

"The commissioning of CVN 78 represents a major milestone in our nation's effort to equip the Fleet with the most advanced aircraft carriers to enter service in the past 50 years," stated Scott Forney, president of GA-EMS. "We are extremely proud of the work we've accomplished with the Navy to deliver EMALS and AAG for the first of three Ford-class carriers. These pioneering launch and arrestment technologies significantly reduce system maintenance and manning requirements, providing greater efficiencies to support the Navy's mission for decades to come."
Video interview on EMALS and AAG during SNA 2017

EMALS involves sophisticated software controls and power electronics to drive the world's largest linear induction motors to ensure accurate end speeds and smoother accelerations to accommodate the wide range of aircraft platforms in the Fleet's current and future air-wing.

"Recent successful manned aircraft launches at Joint base McGuire-Dix-Lakehurst in New Jersey confirmed EMALS is more capable than traditional steam catapult systems," stated Rolf Ziesing, vice president of Programs at GA-EMS.