a
Naval Industry News - Russia
Russia Lays Keel of First Two of Six Project 636 SSK Submarines for Pacific Fleet
The Admiralty Shipyard in St. Petersburg simultaneously laid the keels of two first diesel-electric submarines (SSK) of project 636.3 (Varshavyanka class) - the Petropavlosk-Kamchatsky and the Volkhov for the Pacific fleet.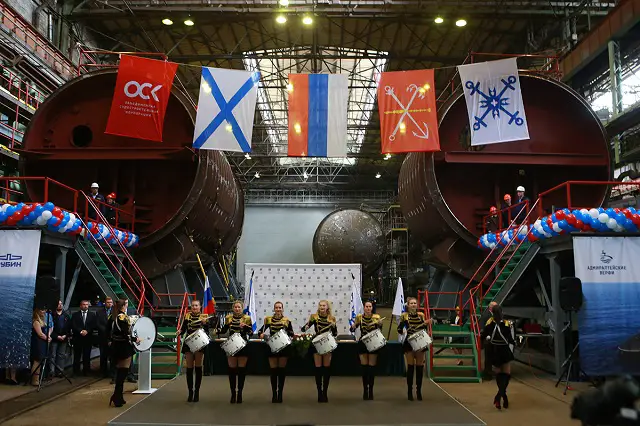 Keel laying ceremony for the Petropavlosk-Kamchatsky and the Volkhov for the Pacific fleet. Admiralty Shipyard picture.

The plaques were fixed to them during a gala ceremony on the eve of the Navy Day in the presence of Deputy Defense Minister Yuri Borisov and Leningrad regional Governor Alexander Drozdenko.

Borisov said the Admiralty Shipyard built in the past years several submarines for the Black Sea fleet which are operational and ensure stability in the Black Sea.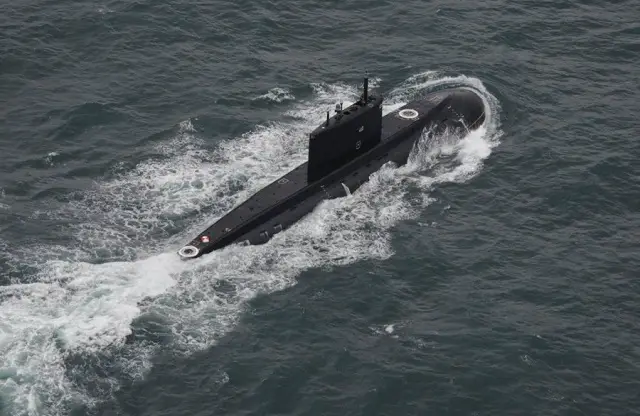 Russia's new Project 636.3 (Varshavyanka) diesel-electric submarine (SSK) "B-261 Novorossiysk" transiting in Belgium's EEZ. File Picture: Belgian Navy

He said the shipyard operates sustainably and decreases the construction time to less than three years. Borisov expressed hope the deadline will be observed.

Project 636.6 Varshavyanka is the third-generation diesel-electric submarine which is considered to be one of the most silent in the world. They can develop surface speed of up to 20 knots, submerge to a depth of 300 meters and their autonomous navigation is 45 days. The crew comprises 52 men.

The first batch of six submarines was already handed over to the Black Sea fleet. Another six Varshavyanka submarines are to be built for the Pacific fleet by 2022.

© Copyright 2017 TASS. All rights reserved. This material may not be published, broadcast, rewritten or redistributed.

Comment:
The first of the six diesel-electric submarines of project 636.3 Varshavyanka-class (improved Kilo-class) for the Pacific fleet - the Petropavlovsk-Kamchatsky - will be handed over to the Russian Navy in November 2019, Admiralty Shipyard Director General Alexander Buzakov said during the keel-laying ceremony. The last if six SSK is set to be delivered in 2022. Project 636.3 submarines are fitted with Kalibr missiles for strike at surface (anti-ship 3M-54 and 3M-541 missiles) and ground targets (cruise missiles 3M-14) and have upgraded radio-electronic equipment.