a
Naval Industry News - Australia
Austal Lays Keel of First Pacific Patrol Boat PPB-R For Royal Australian Navy
Austal today hosted the Hon. Christopher Pyne MP, Minister for Defence Industry, at the ceremonial keel laying of the first Pacific Patrol Boat vessel for the Australian Government's Pacific Patrol Boat Replacement (PPB-R) Project. Minister Pyne authenticated the keel by committing his signature to a plate that was subsequently welded and placed in the hull of the vessel.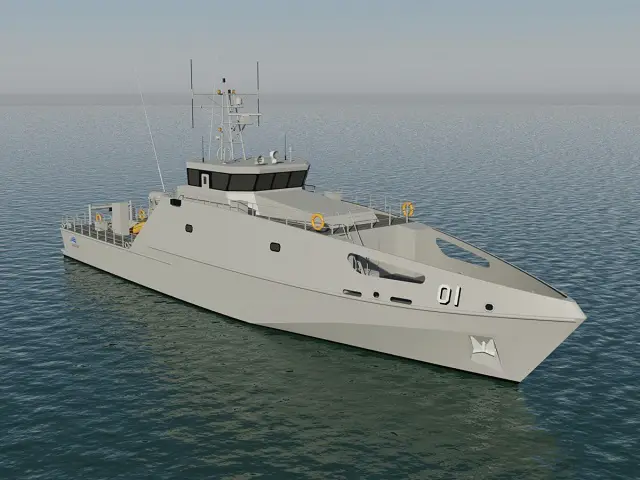 Nineteen 39.5 metre steel hull Pacific Patrol Boats will be constructed by Austal for 12 Pacific Island nations, for delivery from 2018 through to 2023. (Image: Austal)
Austal Chief Executive Officer David Singleton said the ceremonial keel laying was a significant milestone in the A$306 million PPB-R Project, which is the first major element of the Australian Government's $89 billion Naval Shipbuilding Plan.

"Austal is delivering on every aspect of the Pacific Patrol Boat Replacement project; from the design and build here in Henderson, to the sustainment of the vessels in Cairns," Mr Singleton said.

"This project is anticipated to employ more than 200 people directly at Austal and hundreds more through our growing Australian supply chain, providing outstanding career opportunities for both qualified workers and apprentices across the country.

"We've already employed more than 30 new apprentices so far this year and we anticipate having 100 on board by the end of 2017," he added.

"The Pacific Patrol Boat Replacement contract further highlights Austal's inherent capability to deliver the Royal Australian Navy's new Offshore Patrol Vessels, with joint venture partner Fassmer of Germany and our established supply chain of over 1,000 companies Australia-wide." Mr Singleton concluded.

Austal is Australia's pre-eminent patrol boat builder, having delivered the Bay, Armidale and Cape class fleets, a total of 32 vessels, to the Australian Border Force and Royal Australian Navy over the past 19 years.

The Pacific Patrol Boat Replacement (PPB-R) contract was awarded to Austal following a competitive tender in May 2016 and comprises the design, build and sustainment of nineteen 39.5 metre steel-hulled patrol boats, for 12 Pacific Island nations. The vessels are being gifted by the Australian Government to enhance practical maritime security cooperation across the South Pacific region.

The first vessel, one of four to be delivered to Papua New Guinea, is due for completion in the last quarter of 2018.