a
Naval Industry News - USA

HII's Ingalls Shipbuilding Christens National Security Cutter Kimball WMSL 756
Huntington Ingalls Industries' (HII) Ingalls Shipbuilding division christened the seventh Legend-class National Security Cutter, Kimball (WMSL 756), today in front of approximately 1,000 guests.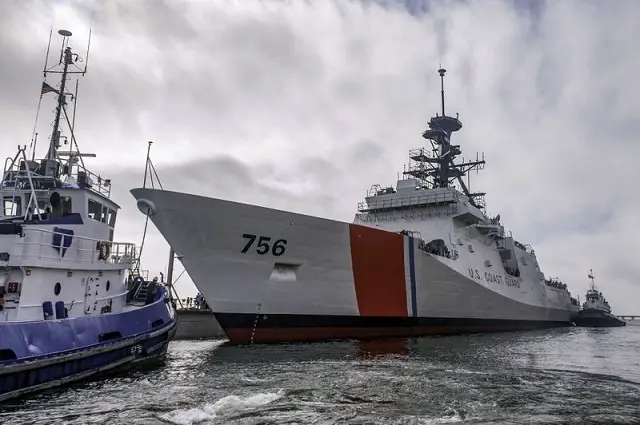 Ingalls Shipbuilding launched the National Security Cutter Kimball (WMSL 756) on Saturday, Dec. 17. Kimball is the seventh NSC Ingalls has built for the U.S. Coast Guard; christening is scheduled for March 4. HII picture.
"We wouldn't be able to bring this ship to life without the great work that we see here at Huntington Ingalls shipyard," said U.S. Coast Guard Commandant Adm. Paul F. Zukunft, who was the ceremony's keynote speaker. "I am moved every time I come onto this facility and I see 'What you do today matters.' And the reason why it matters so much is that in the year 2060, this ship will still be serving with a whole new generation as its crew. Many other nations around the world model themselves after the United States Coast Guard. We are the premier Coast Guard in the world. We would not be that without these magnificent ships being built in Pascagoula today."

The ship is named in honor of Sumner I. Kimball, who organized and directed the U.S. Life-Saving Service and was a pioneer in organizing all of the different facilities associated with the service into what eventually would become toady's U.S. Coast Guard.

Ingalls is the sole builder of Legend-class National Security Cutters and has successfully delivered six to the Coast Guard. Kimball is scheduled to start builder's trials in the fourth quarter of 2017. The eighth ship, Midgett (WMSL 757) is scheduled to launch in the fourth quarter of 2017. In December 2016, Ingalls received a $486 million contract to build a ninth National Security Cutter for the U.S. Coast Guard.

WMSL 756 is the third ship to bear the name Kimball. The first, WSC/WMEC-143, was commissioned in 1927 and was homeported in Pascagoula, where it served as a patrol boat until 1938. The second ship was SS Sumner I. Kimball (EC2-S-C1), a Liberty ship built in 1943. Mass-produced on a record scale during World War II to carry cargo and munitions to Europe, the Liberty ship symbolizes U.S. wartime industrial output. On return from its first trans-Atlantic voyage in 1944, EC2-S-C1 was torpedoed and sunk by a Nazi submarine, resulting in the loss of 64 American lives.

Legend-class National Security Cutters are the flagships of the U.S. Coast Guard. They are the most technologically advanced ships in the Coast Guard's fleet, with capabilities for maritime homeland security, law enforcement and national security missions. NSCs are 418 feet long with a 54-foot beam and displace 4,500 tons with a full load. They have a top speed of 28 knots, a range of 12,000 miles, an endurance of 60 days and a crew of 120. The Legend class of cutters plays an important role in enhancing the Coast Guard's operational readiness, capacity and effectiveness at a time when the demand for their services has never been greater.