a
Naval Industry News - Russia
Russia to Launch Second Project 18280 Intelligence Ship Ivan Khurs in April
The second Project 18280 (NATO reporting name: Yuriy Ivanov-class) vessel, the Ivan Khurs, is slated for launch in late April, according to the press office of the Severnaya Verf Shipyard.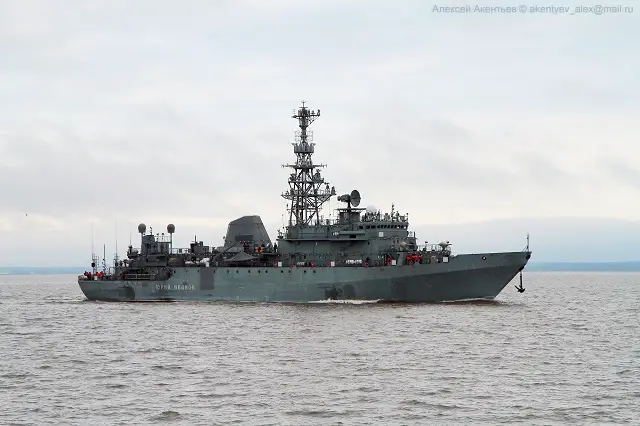 The first Project 18280 intelligence ship Yury Ivanov of the Russian Navy. Picture: Alex Akentev
"The Severnaya Verf Shipyard [a subsidiary of the United Shipbuilding Corporation] has begun to prepare for the launch scheduled for late April 2017. The completion of the vessel is in full swing," the press office said. "The dockside tests will begin in May. The running trials are tentatively planned for September. The Ivan Khurs is to be delivered before year-end."

Several hundred subcontractors have supplied components for the ship, with the Baltic Shipyard - Shipbuilding, Sevmash and Kolomna Plant among them, but not all of them have managed to remain schedule.

"For instance, the Urals Diesel Engine Plant slipped behind schedule by a year. There have been other delays too. However, Severnaya Verf is doing its utmost to meet the deadline," the press office stressed.

The Ivan Khurs, the second vessel of the Project 18280 series, was laid down in the fall of 2013 and named after Vice-Admiral Ivan Khurs, who had made an outstanding contribution to organizing and developing the naval intelligence service. The communications ships of the series are designed for command, control, communications and electronic intelligence. The ships in the class displace about 4,000 tons and have a speed of 20 knots, a cruising range of 8,000 nm and a complement of 120.

It had been reported previously that the Ivan Khurs was due for launching in the fall of 2016, but Southern Military District Colonel General Alexander Dvornikov said in February 2017 that the district would receive the vessel in 2017.

The first Project 18280 communications ship Yuri Ivanov was delivered to Russia's Navy in late 2014.



© Copyright 2017 TASS. All rights reserved. This material may not be published, broadcast, rewritten or redistributed.