a
Naval Industry News - Germany, Norway

KONGSBERG, TKMS & Atlas Elektronik in teaming agreement for submarines
The companies join resources and establish a joint venture company in Norway that will be the international strategic and exclusive supplier of combat systems for thyssenkrupp Marine Systems' submarines. On February 3rd 2017, the Norwegian Government announced that Germany was chosen as strategic partner for new submarines, and that Norway enters into negotiation with prime contractor thyssenkrupp Marine Systems.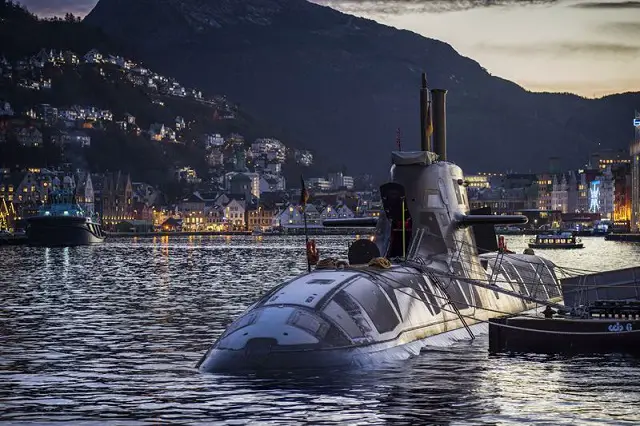 Picture by Kongsberg
Following the decision, KONGSBERG, thyssenkrupp Marine Systems and Atlas Elektronik today entered into a comprehensive teaming agreement. As part of this agreement, the partners will establish a new company based in Norway. Shares in the joint venture will be part-owned by both the Norwegian and German partners. The newly founded company will be responsible, among other things, for the development, production and maintenance of combat systems. This will enable all three partners to jointly offer the full range of services and products to their clients.

"This is a historic milestone for our defence business and a great recognition of our expertise in naval systems. The agreement has a potential of more than NOK 15 billion for KONGSBERG in the next decades, and lays the foundation for significant activity and job creation for the Norwegian industry," says Geir Håøy, President and CEO of KONGSBERG.
 Picture by Kongsberg
Having built more than 160 submarines over the last 60 years, thyssenkrupp Marine Systems is the world-leading supplier of conventional submarines. KONGSBERG has significant experience delivering combat systems. Atlas Elektronik is a leading supplier of sonar systems, weapon control and other key components in submarine combat systems.

"Four important success factors are key to our concept in Norway: cooperation with Norwegian industry, proven technology, predictability on costs and schedule, and long term partnership. The agreement signed today is the first important step that brings all these factors together. KONGSBERG and Atlas Elektronik's expertise in combat systems for submarines is internationally recognized, and we are very glad that our submarines will be delivered with world class systems on board going forward," says Dr. Peter Feldhaus, CEO of thyssenkrupp Marine Systems.

"Atlas Elektronik has extensive experience from deliveries of sensors, combat systems and effectors for submarines. KONGSBERG is our preferred partner in Europe. The teaming agreement is an important first step in a long and fruitful cooperation. The upcoming Norwegian submarine program will pave the way for further cooperation. We also see many opportunities outside the submarine business and we're looking forward to this," says Dr. Rolf Wirtz, CEO of Atlas Elektronik.