a
Naval Forces News - Russia
Russia to Upgrade and Overhaul Sole Aircraft Carrier Admiral Kuznetsov by July
The Zvyozdochka Shipyard in Severodvinsk in north Russia will start repairing and upgrading the heavy aircraft carrier Admiral Kuznetsov in the first quarter of 2017, a source in Russia's defense industry told TASS. The repair will last 2.5 years, the source added.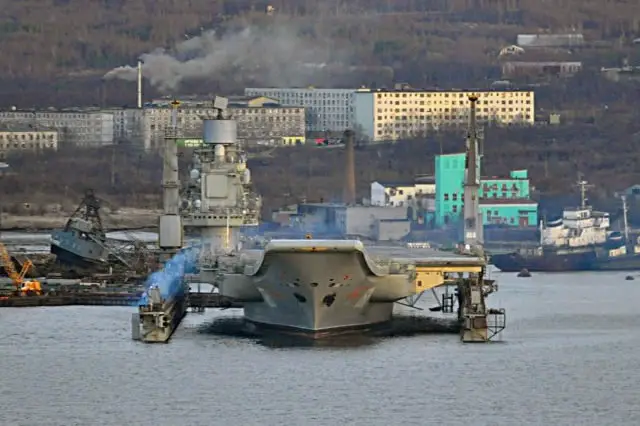 Russian Navy Aircraft Carrier Admiral Kuznetsov inside the dock in Severomorsk/Murmansk in 2015. Picture: Flotprom.ru
"A decision has been made to start repairing and upgrading the aircraft carrier Admiral Kuznetsov at the Zvyozdochka Shipyard in the first quarter of 2017," the source said. "Within the next one or two months, the detail program including the work volume and the cost will be drawn up," the source added. According to the source, "the ship is expected to be repaired and upgraded by 2020."

As the source said, a contract for the repair of the aircraft carrier Admiral Kuznetsov earlier involved in the counterterrorist operation in the Mediterranean Sea has not been signed yet. According to preliminary estimates, the deal may exceed 20 billion rubles ($338 million), he added.

The shipbuilders will repair four out of the eight power plant boilers. The remaining four boilers will be replaced.

"The ship will be furnished with advanced electronic warfare, communications, reconnaissance, navigation and battle management systems. Work will be carried out to mount new safe landing systems for shipborne aircraft," the source said.

"There are no plans to alter planes of the air wing," the source added. The Zvyozdochka Shipyard told TASS that it was ready to start repairing the aircraft carrier but "it will not comment on the timeframe, cost and work volume until the contract is signed."

As President of Russia's United Shipbuilding Corporation Alexei Rakhmanov said earlier, the Zvyozdochka Shipyard will modify the weapons suite of the Admiral Kuznetsov.

© Copyright 2017 TASS. All rights reserved. This material may not be published, broadcast, rewritten or redistributed.