a
Naval Industry News - UK
First of five new Royal Navy River Class Offshore Patrol Vessels named HMS FORTH
HMS FORTH, the first of the five new River Class Offshore Patrol Vessels (OPV), was officially named today during a ceremony at BAE Systems' site at Scotstoun in Glasgow in this important year for the Royal Navy.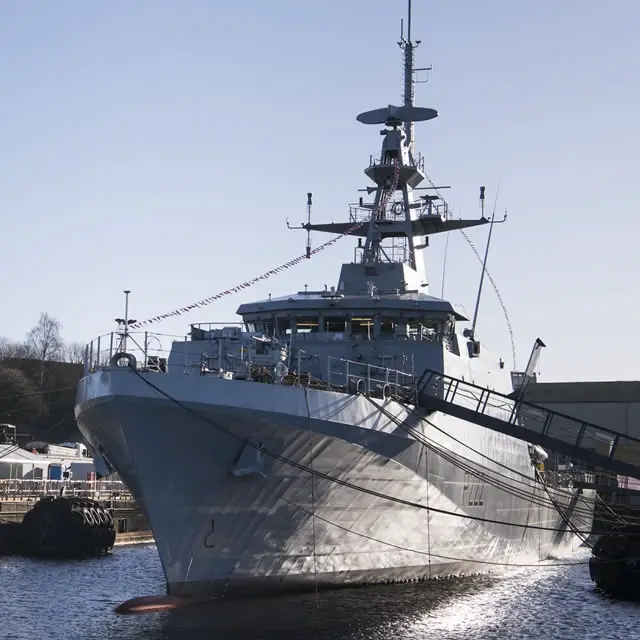 HMS FORTH. Picture: BAE Systems
Guests watched as Mrs Johnstone-Burt, HMS FORTH's sponsor and wife of Vice Admiral Tony Johnstone-Burt, the Master of the Household to the Sovereign and former Chief of Staff to NATO's Supreme Allied Command Transformation, named the 1,800 tonne, 90-metre-long vessel. In keeping with tradition, Mrs Johnstone-Burt smashed a bottle of locally-distilled whisky from the Deanston Distillery near Stirling, the city affiliated with HMS Forth, against the ship's hull.

Minister for Defence Procurement, Harriett Baldwin, said: "As part of a sustained programme delivering world-class ships and submarines, HMS Forth's naming is a vitally important part of the Government's ten-year £178 billion plan to provide our Armed Forces with the equipment they need. From counter-narcotics operations in the Caribbean, to securing the UK's borders on patrols closer to home, the Royal Navy's new Offshore Patrol Vessels will help protect our interests around the world."

Iain Stevenson, Managing Director of BAE Systems Naval Ships, added: "Today's naming ceremony is an immensely proud occasion for each and every person involved in the design and manufacture of HMS FORTH for the Royal Navy. It's easy to forget that the she started life as a flat plate of steel in the winter of 2014, yet just over two years later she is afloat at Scotstoun, with the latest technologies and combat management systems, ready to depart for sea trials later this year."

HMS FORTH will embark shortly for sea trials where she will be put through her paces in the open waters off the coasts of Scotland. With a crew of 58 HMS FORTH is expected to enter service with the Royal Navy in 2018.

The 90 metre OPV is based on a proven BAE Systems design, which is already in service with the Brazilian Navy and Royal Thai Navy. Engineers at BAE Systems have modified the design to meet the requirements of the Royal Navy in support of UK interests both at home and abroad. The OPVs will be globally deployable and capable of ocean patrol with a range of in excess of 5,000 nautical miles and a maximum speed of 24 knots. The vessels will include a modified flight deck capable of operating the latest Merlin helicopters, larger stores and more accommodation for embarked troops. They will also be the first ships to be built with a BAE Systems' designed operating system called 'Shared Infrastructure'. The Shared Infrastructure hardware solution provides a smart, easily-updatable warship operating system loaded onto a single console.