a
Naval Industry News - Russia
Russia Navy to Receive 2 Project 22350 Gorshkov-class Frigates with Advanced AD Systems by 2021
The Russian Navy will have received two Project 22350 (NATO reporting name: Admiral Gorshkov-class) frigates equipped with an advanced air defense missile and gun system featuring several types of surface-to-air missiles (SAM), including a long-range one, before year-end 2020, Russian Defense Minister Sergei Shoigu said during a teleconference call.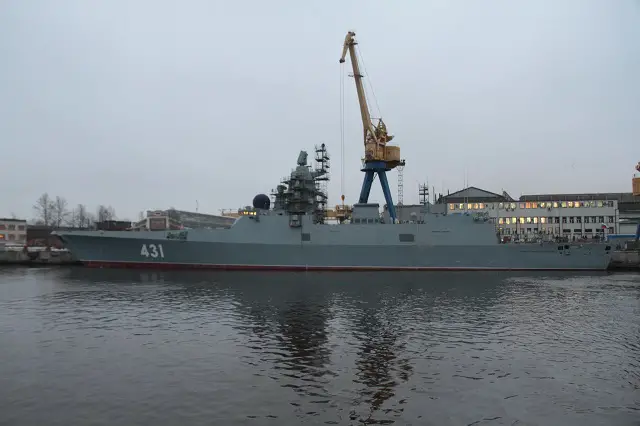 Admiral Kasatonov, the second Project 22350 Frigate of the Russia Navy at fitting out stage in St Petersburg (picture from 12/2016). Picture: Alexey Akentev
"The third issue is the development of the air defense missile/gun system and long-range missile for it. Two cutting-edge Project 22350 frigates fitted with the advanced Kalibr [SS-N-27 Sizzle] and Oniks [SS-N-26 Strobile] missile systems will have been commissioned by the Navy before 2020. They will be equipped with a new air defense missile and gun system with guided missiles of several types," he said as shown by the Russia 24 television channel.

According to the minister, the missiles have logged over 60 launches at the training areas of the Baltic and Northern fleets and at the Kapustin Yar Missile Range in the Astrakhan Region, and the official trials of the latest long-rage SAM are in progress.

"Once completed, the two programs will yield a weapon system featuring unique combat capabilities. The Defense Ministry expects it fielded soon," Shoigu added.

The Project 22350 frigate has a displacement of 4,550 tons. The capacity of its diesel-gas-turbine power plant is 65,000 hp.

The ship is armed with the new A-192 130mm artillery gun and anti-ship, antisubmarine and air defense missile systems, including the Kalibr (NATO reporting name: SS-N-27 Sizzler) and Redut-Poliment complexes. The ship is capable of carrying the Kamov Ka-27 (Helix) helicopter or its versions.

Link to Admiral Gorshkov (Project 22350) Frigate technical datasheet


© Copyright 2017 TASS. All rights reserved. This material may not be published, broadcast, rewritten or redistributed.