a
Naval Industry News - India
BRAHMOS Extended Range (ER) missile successfully test-fired
As part of capability enhancement endeavour, a major milestone was achieved on 11th March 2017 when an enhanced version of the BRAHMOS supersonic cruise missile with an Extended Range (ER) was successfully test-fired from the Integrated Test Range (ITR) Chandipur at sea in Balasore, off the coast of Odisha.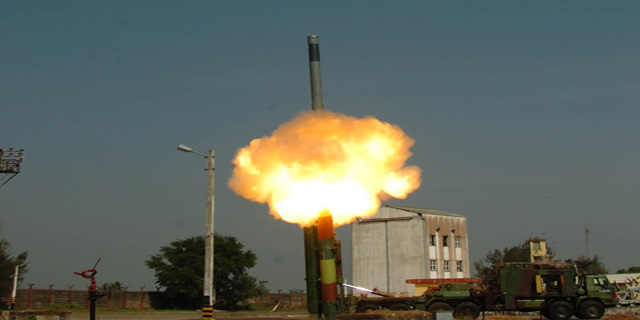 1st test firing of Brahmos ER. Picture by Brahmos Aerospace.
In a historical first, the formidable missile system once again proved its mettle to precisely hit enemy targets at much higher range than the current range of 290 km, with supersonic speed of 2.8 Mach.

During the launch at 1130 hrs, the land-attack version of the supersonic cruise missile system met its mission parameters in a copybook manner. It was a text book launch achieving 100% results, executed with high precision from the Mobile Autonomous Launcher (MAL) deployed in full configuration.

The new benchmark which was set by Chairman DRDO Dr. S Christopher during Aero India 2017 in Bengaluru has been remarkably achieved by BrahMos Aerospace.

The unique BRAHMOS weapon system has empowered all three wings of the Indian armed forces with impeccable anti-ship & land attack capability.

The technology upgrade comes after India's full membership to the Missile Technology Control Regime (MTCR), which removed caps on range of BRAHMOS cruise missile.

"With the successful test firing of BRAHMOS Extended Range missile, BRAHMOS-ER, the Indian Armed Forces will be empowered to knock down enemy targets far beyond the 400 kms. BRAHMOS has thus proved its prowess once again as the best supersonic cruise missile system in the world," Dr. Sudhir Mishra, CEO & MD of BrahMos Aerospace, said from the launch site.

Dr S Christopher congratulated the BrahMos team, DRDO & NPOM scientists involved in today's successful mission.

The launch was witnessed by Deputy Chief of Army Staff, Director General Artillery, Corps Commander and many other senior officers from Indian Army. BrahMos Project Director Mr. VSN Murthy, and Programme Director Mr. Dasharath Ram along with other senior officers from DRDO & BrahMos were also present during the launch.

BrahMos is a joint venture between DRDO of India and NPOM of Russia.