a
Naval Forces News - Russia
Russia MoD: Problems with Ka-52K Katran Naval Helicopter Following Mediterranean Trials
According to Russian Deputy Defense Minister Yuri Borisov that the Ka-52K shipborne helicopter had certain imperfections following early shipborne trials. The deputy defense minister expressed confidence that they would be removed soon.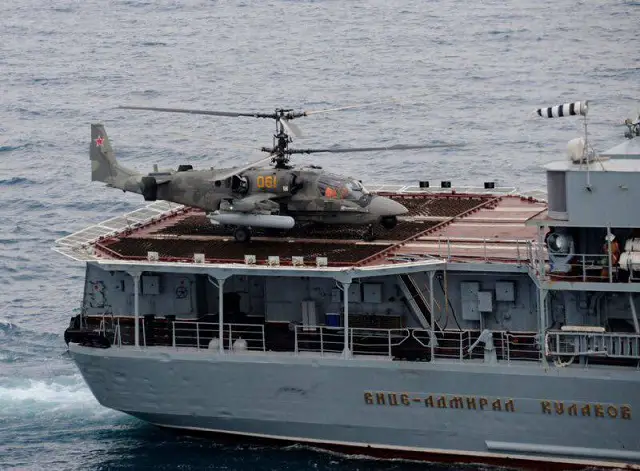 Ka-52K Katran naval helicopter during trials aboard
Udaloy-class ASW destroyer Vitse-Admiral Kulakov. Picture via @RSS_40

"We have discussed problems concerning the Ka-52K helicopter. We have completed all its preliminary trials and now we are expected to decide on the ships that will carry it," Borisov said.

The deputy defense minister highly assessed the work carried out by the Progress Helicopter Plant to fulfill the 2016 state defense contracts.

"There has been no problem. All helicopters were delivered on schedule," Borisov said, without specifying the number of helicopters delivered.

Representatives of the Progress Helicopter Plant said that the Defense Ministry had received 14 Ka-52 helicopters under the state defense contract and two more rotorcraft ahead of schedule in 2016.

© Copyright 2017 TASS. All rights reserved. This material may not be published, broadcast, rewritten or redistributed.

Navy Recognition Comments:
The Ka-52K helicopter is a ship-based version of the Ka-52 reconnaissance and attack helicopter. Unlike the baseline helicopter, the Ka-52K rotorcraft features folding main rotor blades and wing panels. The Ka-52K helicopter has reinforced landing gear.

The helicopter is capable of launching Kh-38 and Kh-35 cruise missiles. Previously, these missiles could be launched only from the board of Mikoyan MiG-29K/KUB (Fulcrum-D) ship-based multipurpose fighter jets or aircraft of the Sukhoi Su-30 (Flanker-C) family.