a
Naval Forces News - Malaysia
Malaysia Coast Guard MMEA Commissions its first New Generation Patrol Craft "KM Bagan Datuk"
The Malaysian Maritime Enforcement Agency (MMEA) commissioned today its first New Generation Patrol Craft (NGPC), named "KM Bagan Datuk". Local company Destini Shipbuilding is currently fulfilling an order to construct 6x 44.25m NGPC for the Malaysian Government. The patrol craft is manufactured under liscence using a Fassmer design. It has been designed to provide flexibility in performing a wide range of operational duties and missions.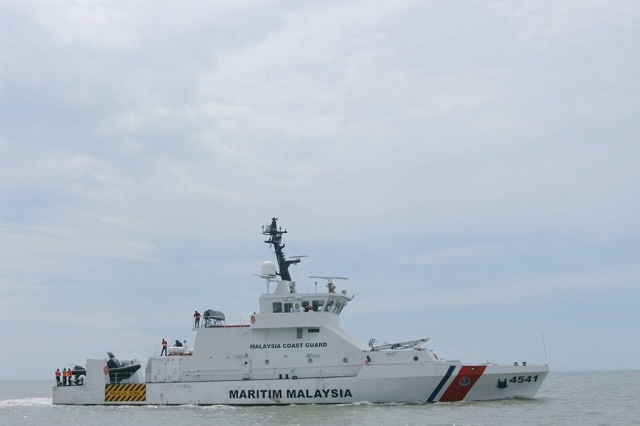 KM Bagan Datuk NGPC during sea trials. Picture: MMEA
The ceremony took place at Destini Shipyard at Port Klang in presence of Najib Razak, Prime Minister of Malaysia as well as MMEA Director General Ahmad Puzi Ab Kahar and the Chief of Royal Malaysian Navy Admiral Kamarul.


The keel of the vessel was laid one year ago, and it started sea trials earlier this year based on a video released by MMEA on Youtube.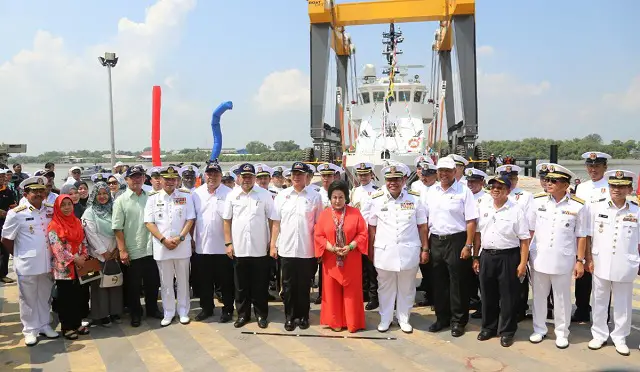 KM Bagan Datuk NGPC commissioning ceremony. Picture: RMN

The NGPC will be engaged in search and rescue, fire-fighting, fishery protection, law enforcement, disaster relief, training, pollution control and EEZ duties.

The vessel has a range of 2000 nautical miles, is capable of speeds up to 24 knots and is armed with an Aselsan 30mm remote controlled naval gun.

It was announced during DSA 2016 that Thales would supply Fulmar UAVs for the platform.

KM Bagan Datuk willl be taking part in the LIMA Maritime Display next week. Stay tuned for more pictures, video and details about the vessel as Navy Recognition is covering the event as official online show daily.