a
Naval Forces News - Japan
Kawasaki Heavy Industries Delivers the 8th Soryu-class SSK SS-508 Sekiryu to the JMSDF
Kawasaki Heavy Industries delivered the "Sekiryu" submarine to the Japan Maritime Self-Defense Force (JMSDF) during a hand over ceremony held at the Kobe shipyard. The ceremony was attended by the Deputy Minister of Defense and the Chief of Staff of the Defense Agency.
SS-508 Sekiryu, the 8th Soryu-class submarine, is handed over to the JMSDF. Picture: Kawasaki Heavy Industries
SS-508 Sekiryu is the 27th submarine built by Kawasaki after the war and the 8th Soryu-class submarine supplied to the JMSDF (the 4th built by Kawaski, the other four ones having been built by Mitsubishi Heavy Industries). Sekiryu means Red Dragon. Sekiryu's keel was laid in March 2013, the SSK was launched in November 2015.

The keel for the first submarine in the class, Soryu (SS-501), was laid down in March 2005. It was launched in December 2007 and commissioned in March 2009.

The latest Soryu class SSK SS-507 Jinryu was commissioned on 7 March 2016.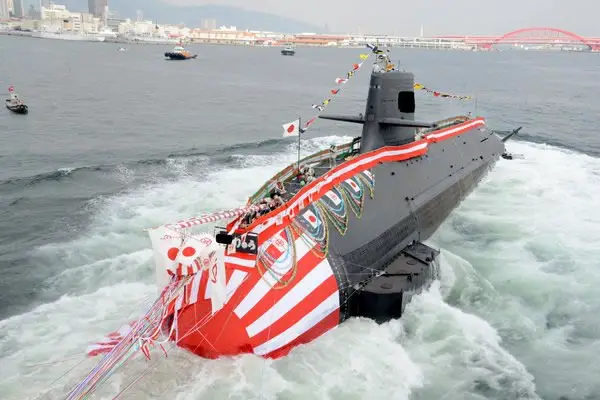 Launch of SS-508 Sekiryu, in November 2015. Picture: Kawasaki Heavy Industries
Ten Soryu Class submarines are planned for the JMSDF. The class is an improved version of the Oyashio Class submarine. Soryu-class submarines are the world's largest conventionally powered submarines. They have an excellent operational track record and are equipped with state-of-the art technologies, including air-independent propulsion (AIP) systems that enable them to remain fully submerged for long periods of time, and advanced stealth technologies that make them more difficult to detect.

Main characteristics (as provided by Kawasaki Heavy Industries):
Length 84.0m
Width 9.1m
Depth 10.3m
Draft 8.4m
Displacement 2,950 Tons
Engine:
- Kawasaki 12V 25 / 25SB type diesel engine 2 groups
- Kawasaki Kokkamusu V4-275R Stirling engine four
Propulsion motor: 1 groups
Number of axes: 1 axis
Speed 20 knots

Link to Soryu Class 16SS SSK Submarine technical datasheet