a
Naval Forces News - Russia
Arsenal Machine Building Plant to deliver 22 AK-176MA Naval Gun Systems to Russian Navy
A total of 22 upgraded AK-176MA guns designed for the advanced Project 22160 patrol ship and Project 22800 corvette will be delivered to Russia's Navy before 2020, the press office of Russia's Arsenal Machine-Building Plant said.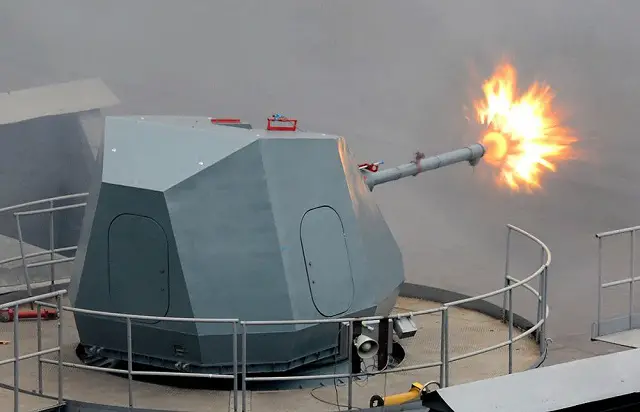 The AK-176MA naval gun system prototype. Picture by JSC "Arsenal Machine-Building Plant". (via flotprom.ru)
"Before 2020, the Arsenal Machine-Engineering Plant is expected to deliver 22 upgraded AK-176MA Mod. 01 guns to the Navy," the press office said.

"The first upgraded gun has been dispatched to the Zelenodolsk Shipyard [in the Volga area] to be mounted on the Project 22160 lead ship Vasil Bykov," the press office added.

The plant developed the upgraded version of the gun on its own initiative. The upgraded gun has completed field tests.

"All requirements indicated by the Navy in the tactical specifications have been met. The AK-176MA gun's laying accuracy and grouping of shots have more than doubled, the laying speed has been increased considerably and the weight has been decreased to less than nine tons," the press office said.

The advanced AK-176MA gun is designed for littoral ships and is expected to be mounted on the Project 22160, 22800, 12418 and 23550 vessels.

It can be also used to replace obsolete artillery systems of ships built earlier.

"Russia's Navy has received the advanced 76.2mm shipborne gun comparable with foreign-made analogs and superior to them by some characteristics," the press office added.

© Copyright 2017 TASS. All rights reserved. This material may not be published, broadcast, rewritten or redistributed.