a
Naval Forces News - Russia
Delivery Date of Latest Russian Navy Frigates May Slip Behind Schedule due to SAM System Issues
The dates of the delivery of the Admiral Gorshkov (NATO reporting name: Admiral Gorshkov-class) and Admiral Makarov (Admiral Grigorovich-class) advanced frigates to the Russian Navy may slip due to the delays in the developing of their air defense missile systems, according to Russian Deputy Defense Minister Yuri Borisov.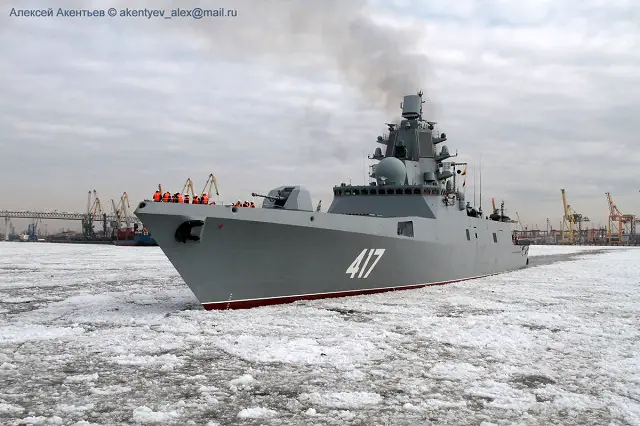 The
lead frigate of Project 22350, Admiral Gorshkov

"The delivery of the Project 22350 Admiral Gorshkov and Project 11356 Admiral Makarov ships may be delayed due to the failure of the Almaz-Antei Corporation to complete the Poliment-Redut and Shtil development programs on time,"

The Admiral Gorshkov is the lead ship of the Project 22350 series. It was laid down early in 2006 and launched in the fall of 2010. The frigate kicked off her trials in November 2014 and the final phase of her official tests began on March 20, 2017.

The Admiral Makarov is the third ship in the Project 11356 class. The frigate's keel was laid in early 2012. The ship was set afloat in the fall of 2015. She is said to be scheduled for delivery in June 2017.

© Copyright 2017 TASS. All rights reserved. This material may not be published, broadcast, rewritten or redistributed.