a
Naval Aviation News - Russia
Rostec Tests Ka-52K Helicopters in Naval Environment
Ka-52K helicopters manufactured by Russian Helicopters holding company (part of Rostec State Corporation) completed the first phase of testing in marine conditions. The machines are currently in the premises of Kamov Design Bureau where specialists finish assessing the condition of helicopters and their components after performing tasks in harsh climatic conditions.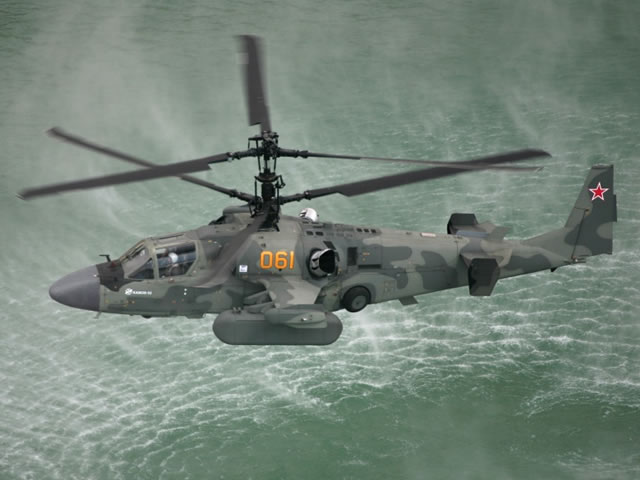 Two Ka-52K helicopters were tested at sea during the period from late 2016 to early 2017.
Two Ka-52K helicopters were tested during the period from late 2016 to early 2017. After performing the tasks set by commanders the tests of helicopters were recognized successful. The machines have already been handed over to engineers of Kamov Design Bureau for conducting additional study of the work of a helicopter and its individual units, as well as for making changes considering possible requirements.

"Ka-52K helicopters completed the first phase of testing in marine conditions, after which it can be concluded that the machines may be placed on an aircraft cruiser and successfully complete their tasks. The helicopter has unique properties; however, one test in the sea is insufficient for understanding the work of its engines, units, avionics, control and armament systems in maritime climate. The design bureau will continue its work as part of tests including those on the aircraft cruiser," said Deputy CEO for Sales of Russian Helicopters holding Vladislav Savelyev.

The Ka-52K helicopter is another machine in the range of "maritime" helicopters developed by Kamov Design Bureau and adopted by the Russian Navy. This range also includes helicopters such as Ka-25, Ka-27, Ka-29 and Ka-31. The Ka-52K helicopter is designed for patrolling, providing fire support for airborne forces during landing, and ensuring counter-air defence on the front line and defence in depth. Modern onboard equipment will ensure navigation of a helicopter when there are no landmarks in the sea.

Unlike a basic model, the Ka-52K helicopter has a shorter folding wing which was redesigned to carry heavy weapons and the mechanism for folding blades which makes it possible to be compactly placed in the hold. A smaller size of Ka-52 shipborne helicopters makes it possible to increase the maximum number of helicopters which may be placed on a ship. An armored crew compartment and an ejection system allow pilots to safely leave a helicopter. Besides, the shipborne Ka-52 helicopter has a rescue apparatus making it possible to rescue seafarers in distress.

The use of corrosion-resistant materials is another important feature of Ka-52K, as the helicopter is to be operated in wet maritime climate. The helicopter has a single-point fueling system and an upgraded air conditioning system which ensures ventilation of immersion suits of crew members. Besides, the helicopter has a short-range radiotechnical navigation system which was not used by the basic model.