a
Naval Forces News - USA
Second America-class Amphibious Assault Ship Tripoli Launched by HII
On April 9 the future USS Tripoli (LHA 7) conducted a translation from land to the dry dock at Huntington Ingalls Industries' (HII) shipyard. The translation was conducted in preparation of launching the ship which was successfully conducted on May 1.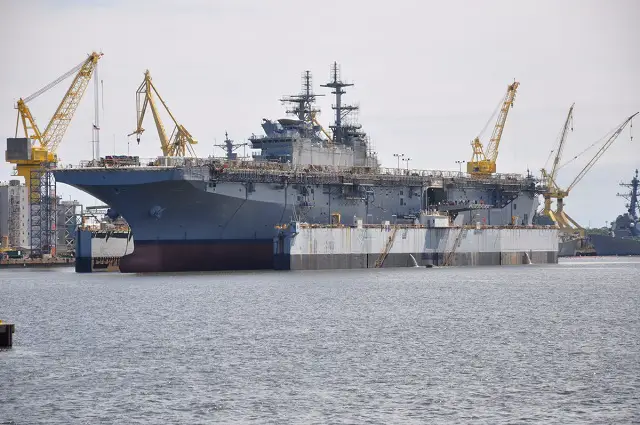 The future USS Tripoli (LHA 7) is launched from Huntington Ingalls Industries' shipyard. (U.S. Navy photo by David Stoltz/Released)
"It was probably the most well-executed translation event that we've seen on a larger ship," explained Cmdr. Randy Slaff, LHA program manager's representative with Supervisor of Shipbuilding, Gulf Coast (SUPSHIP-GC).

The translation required 247 jacking and pallet cars to support the displacement of the ship and ensure even distribution throughout. The translation successfully completed following 19 hours of continuous work.

Following the translation, Tripoli was successfully launched on May 1 after the dry-dock was flooded to submerge the ship and allow it to float off for the first time.

"We've made tremendous progress on Tripoli over this past month, completing two major production milestones," said Capt. Scot Searles, Amphibious Warfare deputy program manager, Program Executive Office (PEO) Ships. "Moving and launching a ship of this size is tedious work and our teams did a superb job executing."

Tripoli will incorporate an enlarged hangar deck, enhanced maintenance facilities, increased fuel capacity and additional storerooms to provide the fleet with a platform optimized for aviation capabilities. The ship is planned to be christened later this year with delivery planned for late 2018.

As one of the Defense Department's largest acquisition organizations, PEO Ships is responsible for executing the development and procurement of all destroyers, amphibious ships, special mission and support ships, and special warfare craft.