a
Naval Forces News - Russia
Russia Second Project 11356 Frigate 'Admiral Essen' Cruising to its Black Sea Home Base
The second Project 11356 frigate 'Admiral Essen' built for the Black Sea fleet has started its cruise from the Baltic Sea to Sebastopol, the press department of the Southern military district said.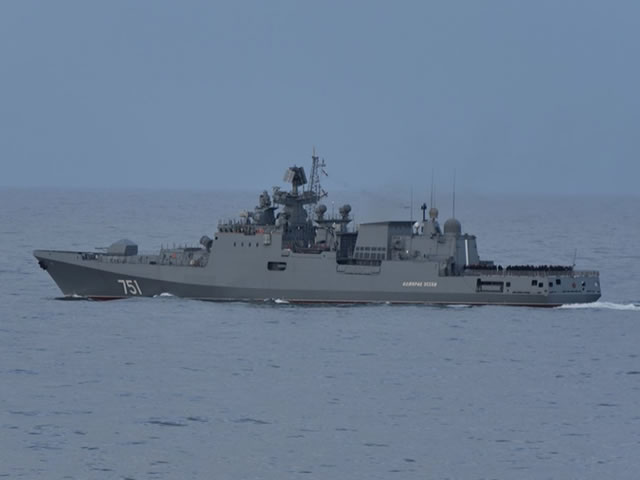 Russian Navy Admiral Essen frigate sailing through Dutch EEZ in the North Sea. Picture: Royal Netherlands Navy
"The first series-produced Project 11356 frigate 'Admiral Essen' has started the cruise from the Baltic Sea to its home base," the press department pointed out.

'Admiral Essen' is the second Project 11356 frigate and the first series-produced ship of the project. It is named after the Russian Empire`s Navy`s Admiral Nikolay von Essen. The handing over of the ship to the Navy and the naval flag raising ceremony took place on June 7, 2016.

The Project 11356 frigates are designed to engage enemy`s surface and underwater combatants in both blue and green waters and aerial targets both separately and in naval formations. The frigates are armed with a naval gun, guided missiles and torpedoes. They can store a Ka-27-type helicopter.
© Copyright 2017 TASS. All rights reserved. This material may not be published, broadcast, rewritten or redistributed.