a
Naval Forces News - Russia
Videos: Russian Navy Project 11356 Frigate 'Admiral Makarov' Firing Shtil-1 Missiles
Two interesting videos were published by Russian TV channels about the recent sea trials of "Admiral Makarov", the Russian Navy third Project 11356 frigate. The videos show Shtil (NATO reporting name: SA-N-12 Grizzly) surface-to-air missile system in action during the final stage of the frigate's state trials.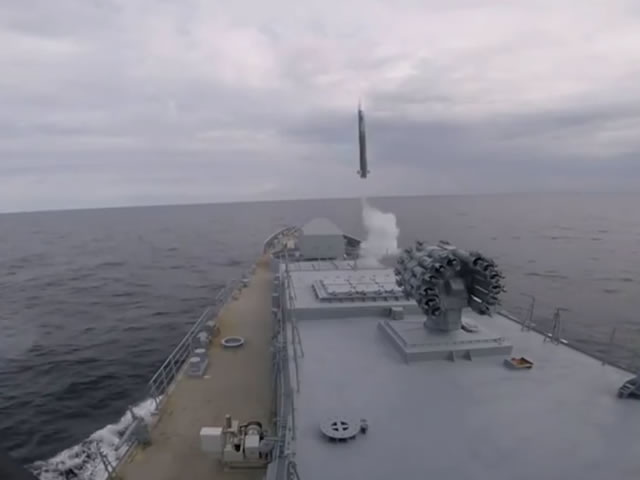 Russian Navy Admiral Makarov frigate launching a Shtil surface to air missile.
The live-fire tests were supported by more than 10 ships and aircraft of the Russian Baltic fleet.

The Project 11356 frigate Admiral Makarov is the third vessel in the series, which is being built by the Yantar Shipyard in west Russia for the Defense Ministry.
As TASS reported earlier, the frigate went to sea on April 14 to hold the final stage of its state trials.
The state trials of the ship began in October 2016 and took place in the Baltic and Barents Seas.
While at sea and during two inter-fleet passages, the frigate showed high sea-going capabilities and the coordinated operation of all its systems.
By late December 2016, the state trials were completed, except the live-fire tests of the Shtil-1 system, which were not smooth.
The shipbuilders and the acceptance team were resolving the problem in the first quarter of 2017.
The frigate Admiral Makarov was laid down by the Yantar Shipyard on February 29, 2012 and floated out on September 2, 2015. The first two Project 11356 frigates Admiral Grigorovich and Admiral Essen were delivered to the customer on March 11, 2016 and June 7, 2016, respectively.
The Project 11356 frigate is designed to attack the enemy's surface ships and submarines at short and long ranges and fight aerial threats both independently and within a formation.
The Project 11356 frigate is armed with the A-190 100mm gun, air defense missile systems, including the Kalibr (SS-N-27 Sizzler) and Shtil systems, and torpedo tubes.
The ship can carry a Kamov Ka-27 (Helix-A) helicopter or its versions.
The Project 11356 frigate has a displacement of 3,620 tons, a length of 124.8 meters, a full speed of 30 knots and endurance of 4,850 miles.