a
Naval Industry News - Russia
Project 971 Akula-class Submarine Vepr Upgrades to be Completed Before Year End

The Project 971 Shchuka-B-class (NATO reporting name: Akula I-class) nuclear-powered attack submarine Vepr equipped with missiles and torpedoes will return to service with the Russian Navy's submarine forces after repair and upgrade by the end of 2017. This was reported by the Russian Ministry of Defense's Department of Information and Mass Communications.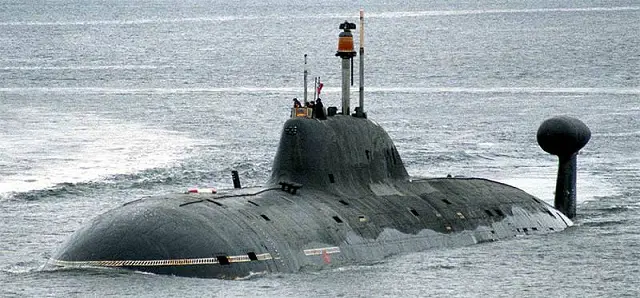 Russian Navy Northern Fleet's K-157 Project 971 nuclear-powered submarine Vepr.
Picture: Ilya Kurganov
"As part of the program to maintain the capabilities of nuclear-powered submarines of the existing projects at a proper level, the Nerpa Shipyard, part of the Zvezdochka Ship Repair Center, will hand over the nuclear attack submarine Vepr to the Navy before the end of 2017," according to the department.

The refurbished submarine will carry upgraded systems and mechanisms. After testing, Vepr will keep carrying out tasks as part of the Northern Fleet's nuclear attack submarine force. It was reported earlier that upgraded Project 971 Bars-class nuclear-powered submarines would be equipped with missiles of the Kalibr (SS-N-27 Sizzler) system.

The Project 971 nuclear-powered submarines equipped with missiles and torpedoes (NATO classification: Akula class) belong to the third generation of submarines and are designed to destroy surface, underwater and ground targets using 533- and 650-mm torpedoes and cruise missiles. The submarine can use the 65-76-type torpedoes, anti-submarine missile systems, and Granat cruise missiles (NATO classification: SS-N-21 Sampson). The boat is fitted with a large amount of equipment, including the MGK-540 Skat-3 sonar system. The submarine features an increased level of acoustic stealth, typical of the third-generation boats. By this indicator, the Project 971 submarine is very close to U.S. Navy's Los Angeles class boats.




© Copyright 2017 TASS. All rights reserved. This material may not be published, broadcast, rewritten or redistributed.