a
Naval Industry News - Russia
Russia to Launch Second Project 18280 Intelligence Ship Ivan Khurs on May 16
The Northern Shipyard in St. Petersburg in northwest Russia will float out the second Project 18280 (NATO reporting name: Yuriy Ivanov-class) vessel, the Ivan Khurs, on May 16, the shipyard's press office said.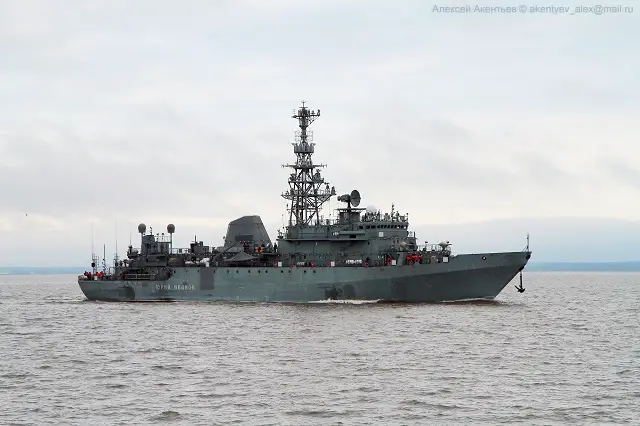 The first Project 18280 intelligence ship Yury Ivanov of the Russian Navy. Picture: Alex Akentev
"Traditionally, the vessel is put afloat when it is more than 80% ready. The ship will be floated out on May 16 on the eve of Day of the Baltic Fleet. The ship Ivan Khurs will start undergoing dock trials in late May," the press office said.

According to the press office, the vessel is expected to be delivered to the Navy before the yearend. The day before, the ship was removed from the slipway. Now, the communications ship will receive a mast, which was impossible to do while it was at the slipway.

"The shipbuilders will soon complete preparations onboard the vessel to float it out. In particular, work to paint the hull of the ship, equip it with a propeller-rudder system, lay a main cable and set up all main life support systems has been completed," the press office said.

The communications ship Ivan Khurs is the second Project 18280 vessel. It was laid down in the autumn of 2013.

The ship was named after Vice-Admiral Ivan Khurs, who had made an outstanding contribution to organizing and developing the naval intelligence service. The Project 18280 communications ship is designed for command, control, communications and electronic intelligence. It has a displacement of about 4,000 tons, a speed of 20 knots and a cruising range of 8,000 miles. The ship's crew totals 120.

It was reported earlier that the ship Ivan Khurs would be floated out in the autumn of 2016, but Southern Military District Colonel-General Alexander Dvornikov said in February 2017 that the district would receive the vessel in 2017.

The first Project 18280 communications ship Yuri Ivanov was delivered to Russia's Navy in late 2014.



© Copyright 2017 TASS. All rights reserved. This material may not be published, broadcast, rewritten or redistributed.