a
Naval Aviation News - Egypt, Russia
Egypt to decide on Russian Ka-52K Katran Naval Helicopters Purchase This Month
Egypt is expected to decide on the purchase of Russian seaborne Ka-52K helicopters for Mistral-type amphibious assault ships in May 2017, Russian Helicopters Group CEO Andrei Boginsky said.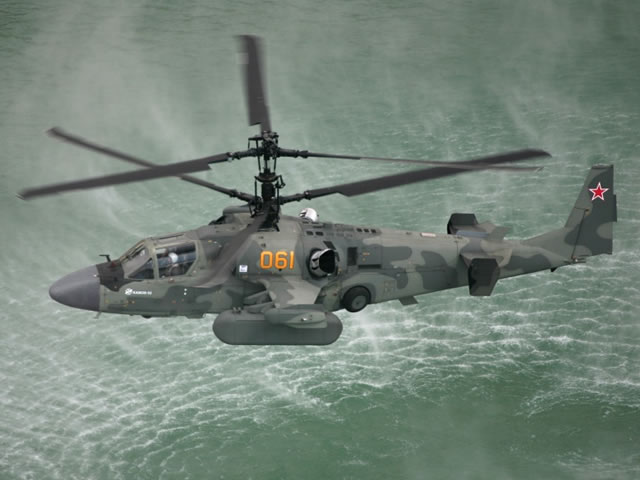 Egypt will soon decide on Ka-52K helicopters procurement for its Mistral-class LHDs.

"The tender procedure is at the final stage. I believe that we'll learn about the result of this tender in May. Of course, we understand that our hardware is better than its foreign rivals by performance characteristics," he said.

In case Russia wins the tender with its shipborne Ka-52K helicopters, the arms trader Rosoboronexport will start negotiating the price of the deal in late May 2017, he said.

The Ka-52K is based on a range of shipborne helicopters operational in the Russian Navy. They include Ka-25, Ka-27, Ka-29 and Ka-31 helicopters. The Ka-52K is designed for patrol missions, fire support for amphibious assaults, and anti-amphibious assault defense at the forefront and in tactical depth.

The Ka-52K differs from the baseline version by its shortened folding wing specifically upgraded to carry heavy weapons and the mechanism of folding rotor blades allowing it to compactly fit into an under-deck compartment. The smaller size of seaborne Ka-52 increases the number of the helicopters onboard. The crew's armored cockpit and the ejection system allow pilots to safely leave the helicopter. The Ka-52 shipborne version also features a rescue system for people in distress at sea.



© Copyright 2017 TASS. All rights reserved. This material may not be published, broadcast, rewritten or redistributed.