a
IDEF 2017 Naval News - Ada-class Corvettes for Pakistan
IDEF 2017: Turkey Signed LOI with Pakistan for the Procurement of 4 Corvettes
During IDEF 2017, the international defense exhibition held in Istanbul, Turkey sign a LOI (letter of intent) with Pakistan for four MILGEM Ada-class corvettes.
Turkish Navy Ada-class Corvette
TCG Büyukada
at IDEF 2017
Talking to Navy Recognition, an STM representative explained that the framework is a government to government agreement. The program will start by the end of the year and launch of the first vessel is expected around 2021. The vessels will be built in Pakistan. The configuration and weapons fit will not necessarily be similar to the MILGEM corvettes currently in service with the Turkish Navy but will be adapted to Pakistani Navy's needs.

The future Ada-class corvettes are set to replace the ageing Type 21 Frigates of the Pakistani Navy.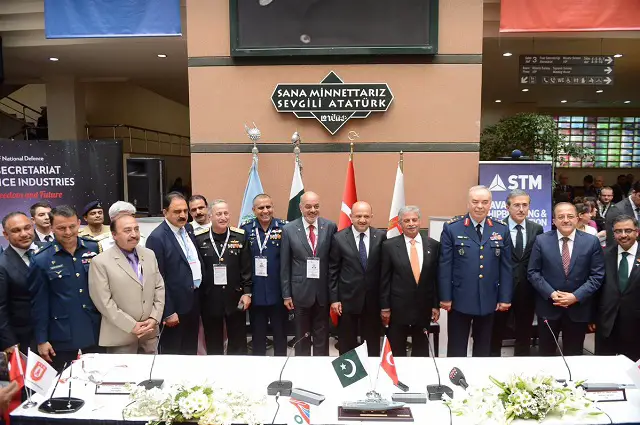 The LOI signing ceremony at IDEF 2017. Picture: STM
MILGEM corvettes are developed to meet the requirements of the Turkish Naval Forces Command with respect to speed, seakeeping and stability. The ship's overall length is 99.5 meters and the maximum beam is 14.4 meters. With her 2400 tons displacement and 3.9 meters draft, the class of corvettes is fully operational at sea state 5 and partially operational at sea state 6. With her 32 MW propulsion power, she has a maximum speed of 29+ knots.

The mission of this class of corvette is to protect the interests of the Republic of Turkey at sea, via establishing deterrence and prevention by:
- Show of flag in all areas of interest
- Performing effective and continuous reconnaissance, surveillance and patrol missions
- Carrying out counter-terrorism activites at sea
- Executing SAR missions
- Executing ASW operations at open seas and littoral waters, identifying and destroying targets
- Performing coordinated operations with other naval and air assets taking part in sea control operations.