a
IDEF 2017 Naval News - DIMDEX 2018
Senior representatives of DIMDEX 2018 visited IDEF 2017 in Istanbul
As part of the continuous preparations for the sixth edition of Doha International Maritime Defence Exhibition and Conference, the organising committee of DIMDEX 2018 attended the International Defence Industry Fair (IDEF) which is taking place in Istanbul, Turkey, until the 12th of May.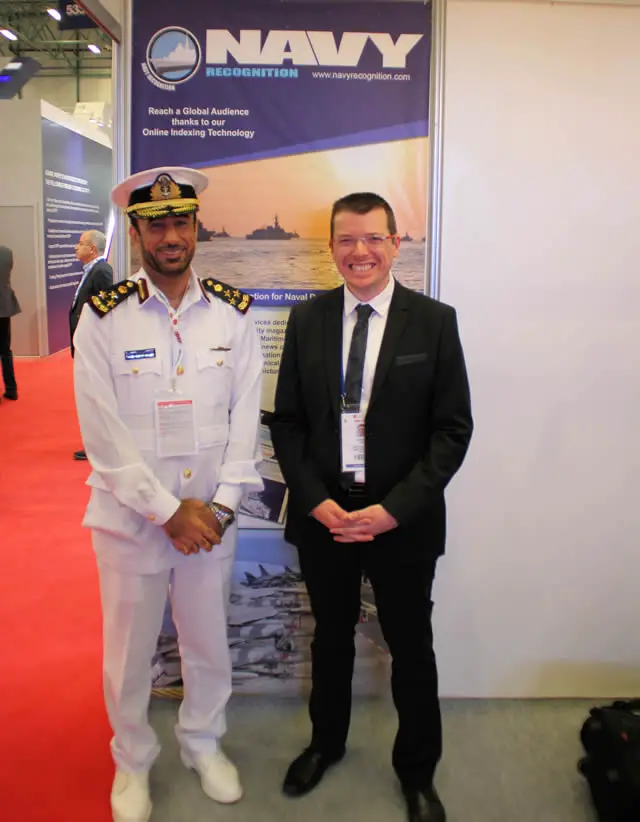 Staff Brigadier (SEA) Abdulbaqi Saleh Al Ansari, DIMDEX Chairman, met with Navy Recognition during IDEF 2017. Navy Recognition will once again be the official Online Show Daily at DIMDEX 2018.
In the efforts of promoting DIMDEX at large, the visit to IDEF is one among a series of official visits to international defence exhibitions. The DIMDEX delegation's presence at such established defence and security events worldwide plays a vital role in reinforcing the position of DIMDEX and its importance in the naval and maritime security industry.

IDEF, being a renowned exhibition in the security and defence industry, is an important platform for DIMDEX to attend and interact with official VIP delegations and key defence industry influencers face-to-face. It also enables the DIMDEX committee to meet with the industry and key pavilion organisers to have first-hand knowledge of the cutting-edge designs and engineering advancements in the naval and security market. During the show, the delegation took full advantage of the opportunity to invite Turkish companies to maintain their significant participation at DIMDEX as the Turkey Pavilion has been one of the largest and most prominent international pavilion featured at DIMDEX for the past several editions.
Staff Brigadier (SEA) Abdulbaqi Saleh Al Ansari, DIMDEX Chairman said: "The organising committee of DIMDEX will continue to visit similar international exhibitions to promote and raise our profile throughout the world. These visits enable us to stay updated with the latest maritime defence and security advancements and share expertise."

Al Ansari continued: "Our visit concluded with positive outcomes; many companies have confirmed their participation in the upcoming edition of DIMDEX, which will be held from 12 to 14 March 2018 in Doha. We would like to, once again, express our readiness to offer the best services and facilities to ensure that our exhibitors and guests' objectives are being met and that they get the best outcomes at our prestigious event".

For more information about DIMDEX, MENC and the opportunities of exhibiting, visit www.dimdex.com