a
Naval Forces News - France

French Navy Horizon-class Destroyer Forbin Succeeds in Aster 30 Test Firing
On May 16, 2017, the French Navy (Marine Nationale) Horizon-class air defense destroyer Forbin (designated Frigate or FDA) destroyed an aerial target simulating an hostile enemy with an Aster 30 surface to air missile.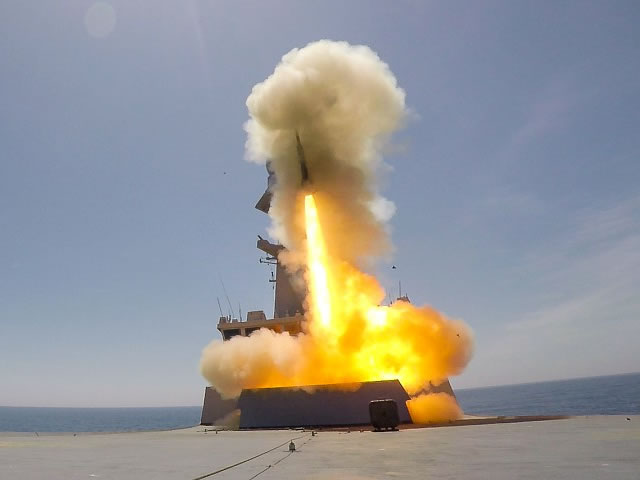 The French Navy Horizon class destroyer Forbin launching an Aster 30 surface to air missile. Picture: French Navy.
This test confirmed once again the ability of the Horizon-class FDA to engage a hostile air target. This firing is part of the classic training cycle of the vessel, which all French Navy surface units follow. This is the third Aster 30 firing by Forbin since it entered active duty.

This firing as well as its preparatory phase are particularly important because they create an operational situation of full and realistic engagement for the frigate and its crew. It confirms the effectiveness of the weapons system of the French Navy's air defense frigates and their ability to engage a hostile air target in order to protect the vessel or the vessels it is escorting.

With a length of 4.9 m and a mass of 450 kg, capable of speeds greater than Mach 4, the Aster 30 long range anti-aircraft missile has an electromagnetic seeker. It can be used against missiles or hostile aircraft and thus contributes to the defense of a carrier battle group or amphibious battle group. It equips the Horizon class frigates (used by France and Italy) and Type 45 destroyers (used by Royal Navy).



The Aster 30 missile is fitted aboard Horizon-class destroyers Forbin and Chevalier Paul and will equip the air defense variant of the FREMM (FREMM-DA) and the future mid-size frigates (FTI).



To learn more about the Horizon-class, watch our video report at this link.