a
Naval Forces News - Albania
Albanian Naval Force to Fit Nexter's Narwhal RWS on its Damen Stan 4207 Patrol Vessels
Nexter, a KNDS (KMW+NEXTER Defense Systems) company, has signed a contract with the Albanian Navy to supply remotely operated 20mm NARWHAL® naval turrets. Albania has been a member of NATO since 2009 and will be the fourth country to equip its navy with NARWHAL® turrets, which already provide short-range self-defence to French and Egyptian FREMM frigates, French Mistral class vessels and Lebanese navy patrol boats. It will be also fitted to the French Navy's patrol boats (Guyanese PLG light patrol craft) and on the HORIZON class frigates.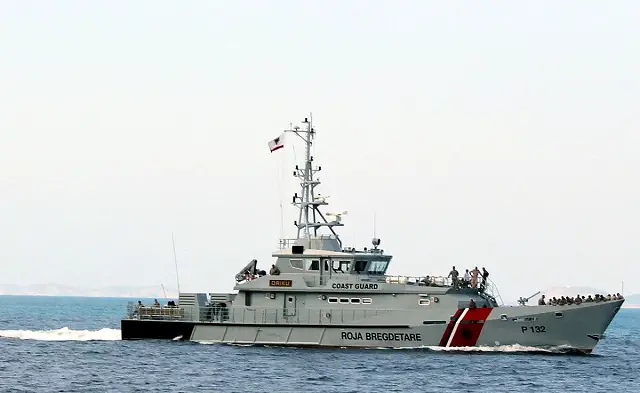 ALS Oriku is an Iliria-class (Damen Stan 4207) patrol boat manned by 21 crew members. NATO picture.
The contract, which came into effect on 19 May 2017, covers the supply of four remotely controlled NARWHAL® systems, to equip the Stan 4207 patrol vessels, which have been in service in the Albanian Navy since 2008. The contract also covers the supply of associated 20mm ammunition, produced by Nexter Munitions, and maintenance equipment.

The first two systems will be delivered at the end of 2017, with the following two to be delivered in the second half of 2018.
Nexter NARWHAL® remotely operated and stabilised 20mm gun turret at Euronaval 2016.
Combining the efficiency of the Nexter's 20M621 20mm gun with a set of high-performance day/night electro-optic cameras and a moving target monitoring function, the NARWHAL® is perfectly suited to surveillance and maritime police missions, but also interception and self-defence operations in the face of constantly evolving asymmetric threats.

Following this purchase, the Albanian Navy intends to step up its involvement in maritime surveillance operations, the fight against piracy and maritime search and rescue missions.

Olivier Travert, Export Sales Director, commented, "Albania is the third foreign navy to equip itself with NARWHAL® turrets, thus confirming the system's ability to perform across a broad range of critical missions."