a
Naval Industry News - Russia
First Project 22160 Patrol Ship for Russian Navy to be Launched 3 Months Late
The Zelenodolsk Shipyard in the Volga area will float out the Project 22160 lead patrol ship in late June almost three months later than planned, a shipyard source told the Flotprom online media organization.
Project 22160 patrol ship. Picture: Severnoye Design Bureau
The lead ship Vasily Bykov will be removed from the slipway on June 15-16, 2017. It is planned to be floated out in late June.

"After that, it will be brought to the docking basin. Then, its dock trials and the passage to the base will follow. Therefore, the acceptance of the ship by the Navy will be postponed to next year," the source said. According to the source, the first serial-produced ship Dmitry Rogachyov will be accepted by the Navy virtually on schedule.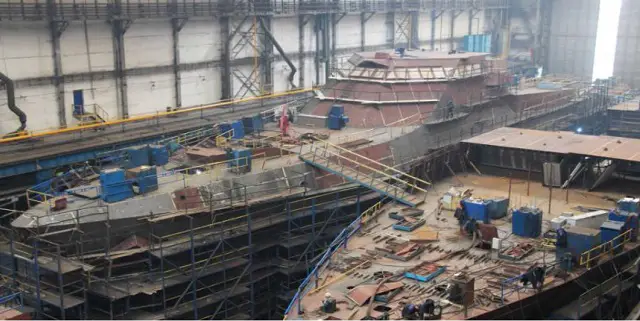 Project 22160 patrol ship under construction at Zelenodolsk Shipyard. Picture via: glav.su/forum
Flotprom does not have any official comment from representatives of the shipyard.

The Project 22160 ship is designed to protect territorial waters and patrol the economic zone. The Project 22160 patrol ship has a displacement of about 1,300 tons, a speed of up to 30 knots and a cruising range of 6,000 miles. Its cruising capacity is 60 days and its crew totals about 80. The ship is armed with the 57mm gun, an air defense missile system and machineguns. The ship can carry the Kamov Ka-27PS (NATO reporting name: Helix) helicopter.

In all, Russia's Navy is expected to receive six ships of the type before 2020.



© Copyright 2017 TASS. All rights reserved. This material may not be published, broadcast, rewritten or redistributed.