a
UDT 2017 Show News - JFD Torpedo SEAL SDV

UDT 2017: JFD Showcasing its Torpedo SEAL Swimmer Delivery Vehicle
British company JDF is showcasing its Torpedo SEAL swimmer delivery vehicle (SDV) at the Undersea Defence Technology (UDT) Conference in Bremen, Germany. Torpedo SEAL is controlled by a single pilot and is able to accommodate an additional passenger, plus equipment.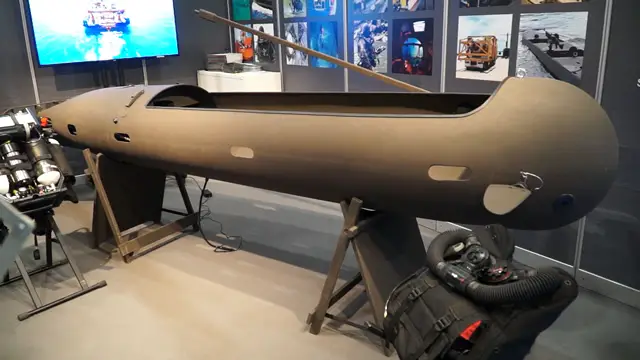 JFD is showcasing an actual Torpedo SEAL SDV at UDT 2017
Torpedo SEAL, which transits within a standard 533 mm submarine torpedo tube may be used for the following purposes:
- Extend the operating range of a combat team
- Underwater survey & reconnaissance
- Delivery of explosive ordnance
- Counter-narcotics & harbour patrol
- Mine countermeasure operations

The SDV has a sprint speed of 4 knots, can dive to a maximum depth of 50 meters and has a range of 10 nautical miles.

Torpedo SEAL may be easily stowed within the multi-purpose tubes being designed into future submarine designs, or beneath the outer casing of the submarine.

In addition to its primary insertion method, Torpedo SEAL may also be launched from any surface craft, underslung by rotary-wing aircraft or stored beneath the outer casing of a submarine.

Torpedo SEAL is currently in use with the Swedish Navy special forces.