a
Naval Industry News - Russia
Video: 2nd Project 22800 Karakurt-class Corvette Taifun Launched by Russia's Pella Shipyard
The first serial-produced (second overall) Project 22800 Karakurt-class missile corvette Taifun has been launched at the Pella Shipyard in St. Petersburg in northwest Russia.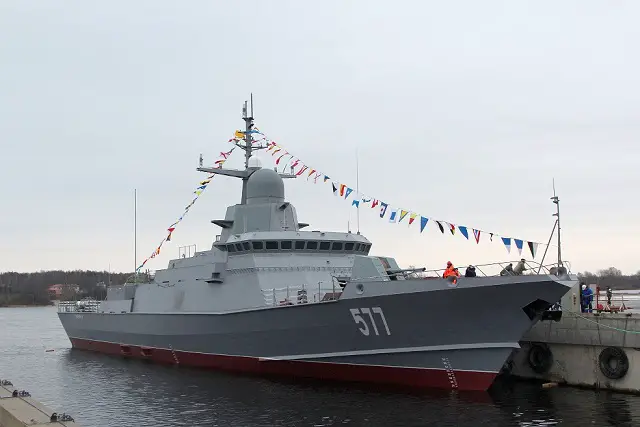 The second Project 22800 Karakut-class Corvette "Taifun" launched at Pella Shipyard. Image via Curious / forums.airbase.ru

"Russia's Navy is waiting for this ship. In 2018, we will test it properly and hand it over to the customer," Pella Shipyard Deputy CEO Sergei Kukhtik said at the launching ceremony. The work is being carried out in strict compliance with the schedule.

The Project 22800 corvettes Uragan and Taifun were laid down by the Pella Shipyard on December 24, 2015.

The first ship was launched in the summer of 2017 and is currently staying at the shipyard's outfitting quay. As Russian Deputy Defense Minister Yuri Borisov said earlier, the lead ship Uragan is planned to be delivered to the Navy before the yearend. The Pella Shipyard is expected to build seven ships of the type. A contract for five Project 22800 ships was signed with the Zelenodolsk Shipyard. Six more corvettes of the type were planned to be built by shipyards in the Far East. In August 2017, the Defense Ministry signed additional agreements on Project 22800 corvettes with the Pella and the Zelenodolsk Shipyards.

Pella Shipyard video

The Project 22800 corvette was designed by Russia's Almaz Central Marine Design Bureau. The ship has a length of 60 meters, a width of 10 meters and a draft of 4 meters. It is powered by a Russian-made diesel-electric power plant.

The ship has a maximum speed of 30 knots, a cruising range of 2,500 miles and a cruising capacity of 15 days.

The corvette is armed with the 76mm AK-176MA gun and the 3S-14 versatile eight-tube vertical launch system for the Kalibr (NATO reporting name: SS-N-27 Sizzler) missile. The third ship in the series will receive the Pantsyr-M (SA-22 Greyhound) anti-aircraft missile/gun system.

The ship features high maneuverability and increased seaworthiness. Its hull and superstructures have reduced signature.

© Copyright 2017 TASS. All rights reserved. This material may not be published, broadcast, rewritten or redistributed.