a
Naval Industry News - Russia
Russia' Second Project 18280 Intelligence Ship Ivan Khurs Ready for Sea Trials
The second Project 18280 (NATO reporting name: Yuriy Ivanov-class) vessel, the Ivan Khurs, built by the Severnaya verf (Northern shipyard) is completing preparations for running trials at the test facility in the Neva River, the press service of the enterprise said.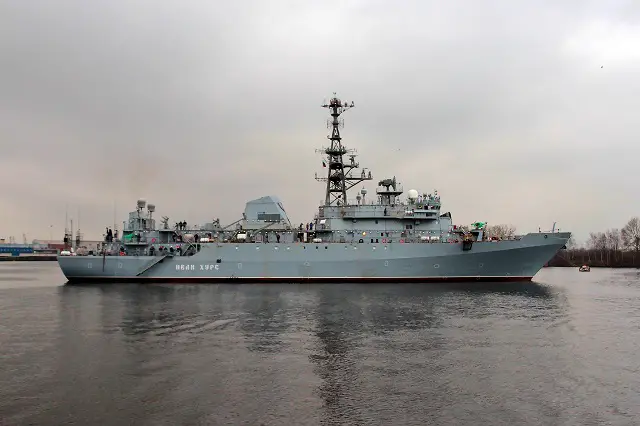 The second Project 18280 intelligence ship Ivan Khurs ready for sea trials in November 2017. Picture: Alexey Akentyev / PJSC Shipyard "Severnaya Verf"
"The technical readiness of the vessel is 99 percent. Harbor tests are being completed according to schedule. In particular, engines, diesel generators and steerable propeller are being tested in operational regime. The hull of the vessel is being degaussed.

Degaussing is a regular procedure to minimize the magnetic field of any vessel. The shipbuilders are this time using a new deperming technology which is less labor consuming and more efficient," it said.

The trial crew which comprises representatives of the Northern shipyard, contractors and the Ivan Khurs crew is preparing for running trials which are to begin shortly. Experts continue to check systems and equipment and participate in survivability drills and train evacuation from the vessel and other exercises.

The communications vessel has higher efficiency and operational power characteristics and is equipped with a broad automated system to control technical means and armaments. The Ivan Khurs has excellent seaworthiness. The flagship of the series, the Yuri Ivanov, was handed over to the customer in 2014.

Project 18280 has a displacement of 4000 tons, a length of 95 meters, a width of 16 meters, a speed of 16 knots, a range of 8000 nautical miles and a crew of 113 men.

© Copyright 2017 TASS. All rights reserved. This material may not be published, broadcast, rewritten or redistributed.