a
Naval Defense Industry News - Germany, Finland
ATLAS ELEKTRONIK completes modernization of Finnish Navy Pansio-class Minelayers
ATLAS ELEKTRONIK Finland Oy as prime contractor has successfully completed the Mid-Life Upgrade program for three PANSIO class inshore minelayers of the Finnish Defence Forces. Today the third and final upgraded ship, PYHÄRANTA, was delivered to the Finnish Defence Forces Logistics Command. The first ship, PANSIO, was delivered in October 2016 and the second, PORKKALA, in May 2017. The contract for the mid-life upgrade was signed in May 2015.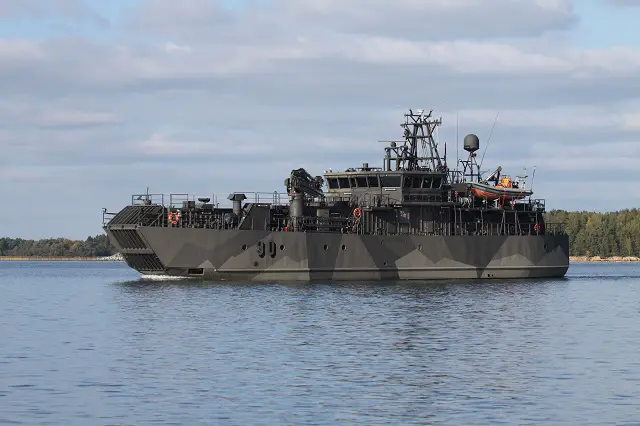 Finnish Navy's minelayer Pansio. Picture: Atlas Elektronik
On the occasion of the handover ceremony, Jaakko Savisaari, CEO of ATLAS ELEKTRONIK Finland, said: "All ships were delivered on schedule and all the customer requirements were fulfilled. The suc-cess of this project has been achieved by the professionalism and expertise, the good cooperation, trust and transparency of the whole team. We, the shipyard, our sub-suppliers, the Logistics Command and the end-users, the Navy, have all shared the same objective."

The mid-life upgrade consisted of replacing all ship systems and bringing new systems onboard. The ships were originally delivered in the beginning of the 1990s. The minelaying and maritime transport capacity of the ships was maintained and support ship functions were developed in the upgrade. The ships are now capable of serving the Navy far into the 2030s.

ATLAS ELEKTRONIK Finland was established in 2009. During the first years the company focused on supporting the Navy's ANCS combat management systems. As the company's competencies and re-sources developed, the company delivered integrated bridge systems to a foreign customer and a large scale integrated mission management and navigation system for the offshore patrol vessel TURVA of the Finnish Border Guard in 2014.

During the competition phase for the PANSIO class mid-life upgrade, ATLAS ELEKTRONIK Finland strengthened its capabilities and broadened its competencies for the prime contractor role. The practical work has been done at the shipyard, Uudenkaupungin Työvene Oy, in a cooperative team consisting of ATLAS ELEKTRONIK Finland, shipyard, system suppliers and sub-contractors, customer and end-user representatives. Good cooperation and quality on all levels has been the key to success for this com-prehensive project.