a
Naval Forces News - Russia
Naval Guns aboard Russian Navy Project 11711 Landing Ship LST Ivan Gren Tested in Baltic Sea
The crew of the Project 11711 large amphibious assault ship Ivan Gren has fired the shipborne AK-630M small-caliber artillery system as part of the builders sea trials in the Baltic Sea, Baltic Fleet spokesman Roman Martov said.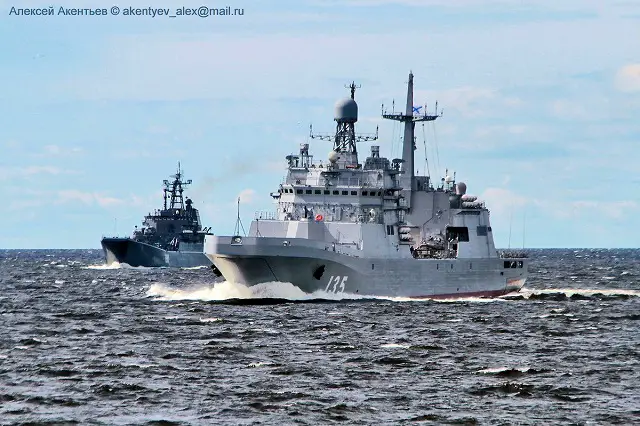 Landing ships of project 775 Aleskandr Shabalin (left) and Project 11711 Ivan Gren (right) sailing together during trials in the Baltic. Picture by Alex Akentyev
During the next stage of the trials, the crew will fire artillery systems against a seaborne practice target and a floating sea mine mockup, he added. Earlier, the ship's crew took military hardware aboard for the electromagnetic treatment of the hull by the SR-28 and SR-936 degaussing vessels to reduce the physical field.

The Ivan Gren is the Project 11711 lead ship. It was laid down by the Yantar Shipyard in Kaliningrad in west Russia in December 2004 and launched in May 2012. Its builders sea trials began in June 2016. The ship is planned to be delivered to the Russian Navy before the yearend.

The ship Ivan Gren can carry 13 main battle tanks, 36 armored personnel carriers or infantry fighting vehicles, or 300 Marines in full combat gear. The ship can transport a reinforced Marine company with organic military hardware and land it with the use of pontoons. The ship is armed with six-barrel 30mm automatic guns and carries two Kamov Ka-29 (NATO reporting name: Helix-B) transport/attack helicopters in its deck hangars.

© Copyright 2017 TASS. All rights reserved. This material may not be published, broadcast, rewritten or redistributed.