a
Naval Forces News - China
China First Type 901 Replenishment Oiler Hulun Lake Commissioned with PLAN North Sea Fleet
China's first Type 901 large replenishment oiler was commissioned into the People's Liberation Army Navy (PLAN or Chinese Navy) today during a ceremony held at Guangzhou Shipyard International Company Limited (GSI) in Guangzhou, Southern China. The 240 meters long vessel displacing 48,000 tons is named "Hulun Lake" (or Hulunhun in Chinese, with hull number 965). It was launched December 15th 2015 by GSI.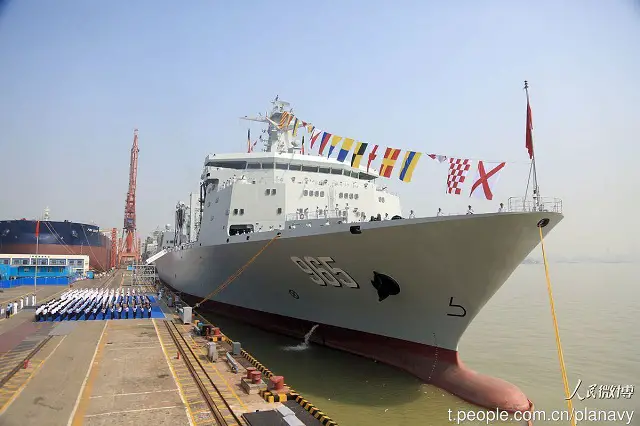 Commissioning ceremony of "Hulun Lake", PLAN's first Type 901 Replenishment Oiler.
Type 901 is fitted with 5x wet cargo transfer stations (3 on port side) for fuel and water, as well as and 2x dry cargo stations which is comparable with the next class of American supply vessel, the T-AO(X) displacing 50,000 tons.

It has been noted by our colleagues from Eastpendulum, the PLAN classification for Type 901 is "general supply vessel" (综合补给舰) similar to the Fleet Replenishment Oiler (AOR) classification of the U.S. Navy... And not Fast Combat Support (AOE) although Type 901 was designed to support all ships in a carrier strike group, including the aircraft carrier.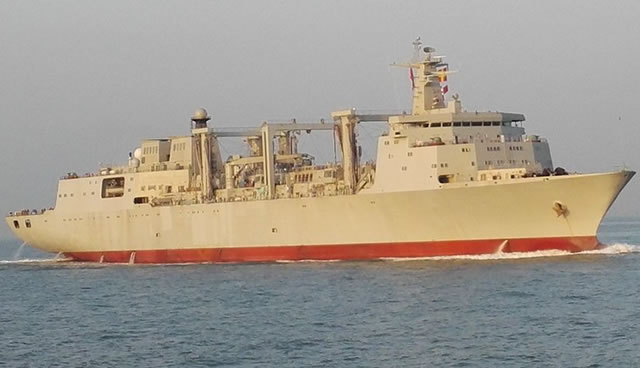 The PLAN Type 901 Replenishment Oiler in initial sea trials in December 2016
Existence of the Type 901 programme emerged in 2011, roughly one year before the commissioning of aircraft carrier Liaoning.

In its initial configuration, the Type 901 was set to be fitted with several self-defense weapon system, such as the H/PJ-11 11-barrel CIWS with a rate of more than 10,000rpm, the HQ-10 missile-based CIWS and a complete electronic countermeasures and warfare suite.

However the final configuration appears to be missing the both of these systems. Instead, a couple of H/PJ-13 (retro-ingineered AK-630 and similar to the ones fitted on Type 22) can be seen in the commissioning pictures. They are fitted forward, right under the bridge.

The PLAN Type 901 Replenishment Oiler in initial sea trials
The key features of the Type 901 compared to the old-generation tankers in service in the Chinese Navy, such as the Type 903, Type 905 and Type 908, is the implementation of a sophisticated logistics support system. It allows to monitor and calculate in real time, via data links, the consumption and also the stock of all types of ships under its assignment. The system then automatically proposes optimized refueling plans according to the missions to be carried out and the conditions at sea.

Like the other Chinese tankers, the Type 901 is equipped with several medical stations to accommodate patients, although the Chinese navy has its own hospital ships. The spotter photos also show two hangars at the stern, the size of which is sufficient to accommodate 13-tonnes helicopters such as the Z-8S and Z-8JH for example.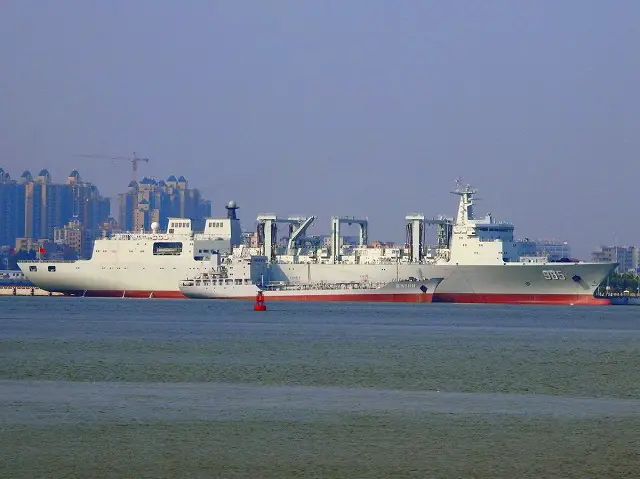 Type 901 Replenishment Oilers are very large vessels (seen here with a Dongyou class tanker alongside)
To date, despite a fairly large fleet of Tanker vessels with one Type 908 of 37 000 tonnes, two Type 905 of 22 000 tonnes and eight Type 903 / Type 903A of 23 000 tonnes, the PLAN is still severely lacking in terms of tankers, able to escort and support the first-line ships in the "Blue water" missions that are becoming increasingly frequent.

When, for example, the US Navy has on average one supply vessel for 5 first-line ships, this figure falls to 1 for 15 in the PLAN. The direct consequence is an average of 200 days per year spent at sea for PLAN latest, most modern tankers. This raises a concern in operational flexibility, crew management and hardware fatigue.

It is therefore not surprising to see a new orders for offshore supply vessels since the 12th Five-Year Plan (2010-2015) - in a single year 2016, three Type 903A refueling tankers have been inducted in active service.

The second Type 901 was launched in July this year by GSI and is currently at fitting out stage.
The construction of this new class of 40,000 tons supply vesselis not only proof that the PLAN is taking the rise of their CSGs very seriously. It also shows an intention to operate in an increasingly "global" way.