a
Naval Forces News - Australia
First Air Warfare Destroyer HMAS Hobart commissioned in to the Royal Australian Navy
Australia's first Air Warfare Destroyer (AWD) HMAS Hobart was commissioned in to the Royal Australian Navy fleet in a formal ceremony at Garden Island in Sydney on September 23rd. The Prime Minister of Australia, the Honourable Malcolm Turnbull joined with other dignitaries, ship's company and family and friends to welcome the newest ship to the Australian Fleet.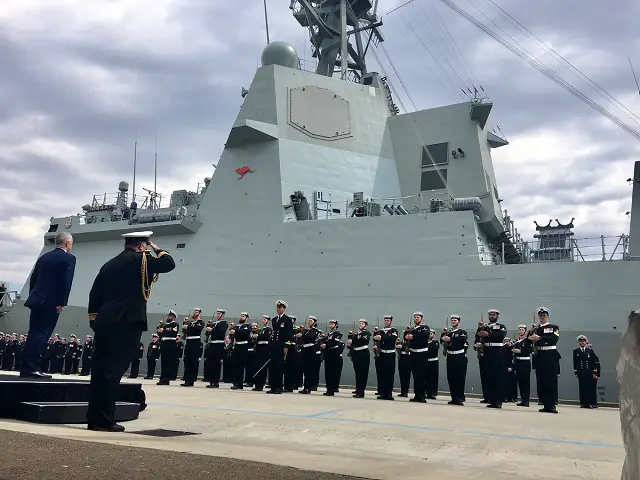 The first Air Warfare Destroyer HMAS Hobart
Mr Turnbull said Australia plays a leading role in ensuring the world remains at peace.
"In these uncertain times, a strong, well equipped Australian Defence Force is absolutely critical," he said.
"The commissioning of HMAS Hobart provides clear evidence of our determination to keep Australians safe and ensure we are ready and able to meet the challenges that come our way in the years ahead.
"Wherever she may travel around the world, Hobart will serve our nation and take action in Australia's name."

The third Australian Navy ship to carry the name Hobart will provide air defence for accompanying ships in addition to land forces and infrastructure in coastal areas, and for self-protection against missiles and aircraft.

Commanding Officer, Hobart, Captain John Stavridis said the ship will be the most complex and capable warship ever operated by Australia.
"She is as powerful as she is potent and is every bit a destroyer," he said.
"Her sensors and weapons are leading edge and she is capable of conducting the full span of maritime security operations.
"However, without the 185 men and women who serve in her, she is just another ship alongside. To be a warship requires a specialist team who are masters in their individual skills and are capable of working collectively to achieve the mission.
"I am blessed with such a crew, who are both proficient and professional."

The ceremony included the breaking of the commissioning pennant and hoisting of the Australian White Ensign for the first time, at which point, Hobart became the responsibility of Captain Stavridis.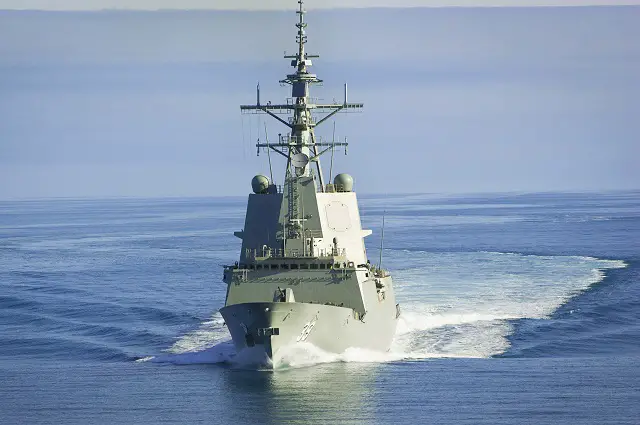 The first Air Warfare Destroyer HMAS Hobart during sea trials
About the Hobart class (AWD):
Three AWDs are being built for Australia's specific defence needs and will provide a significant increase in Australia's defence capabilities. The AWDs will provide greater protection for ADF personnel by providing air defence for accompanying ships as well as land forces and infrastructure on nearby coastal areas. The AWDs will also provide self-protection against attacking missiles and aircraft.

The Aegis Weapon System incorporating the state-of-the-art phased array radar, AN/ SPY 1D(V), in combination with the SM-2 missile, will provide an advanced air defence system capable of engaging enemy aircraft and missiles at ranges in excess of 150 kilometres.

The AWDs will also carry a MH-60R Seahawk 'Romeo' naval combat helicopter for surveillance and response to support key warfare areas. The surface warfare function will include long range anti-ship missiles and a naval gun capable of firing extended range munitions in support of land forces. The AWDs will also be able to conduct Undersea Warfare and will be equipped with modern sonar systems, decoys and surface-launched torpedoes.

Coupled with an array of close-in defensive weapons, all of these capabilities ensure the AWDs have the layered defensive and offensive resources required to win the battle against 21st century conventional and asymmetric threats.