---
Scientists of the Lobachevsky State University in Nizhniy Novgorod have carried out laboratory tests of the Tunets (Tuna) vessel intended for underwater research, Avgust Li, deputy rector for scientific work, told TASS.
---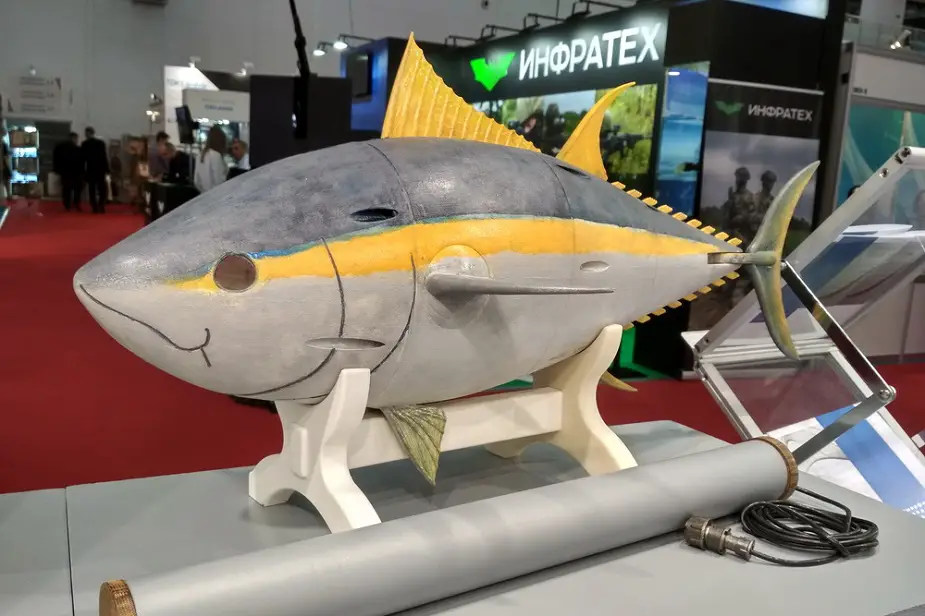 The Tunets (Tuna) UUV showcased by Lobachevsky State University during Army 2018 exhibition

---
"The vessel is a robotic autonomous platform designed as a fish-like robot. It has various sensor modules, which can change for a concrete task, including the monitoring of prescribed characteristics of a designated underwater area. The project is at the stage of creating a development prototype. We have finished testing the vessel in laboratory conditions," the scientist said.
Biomorphic properties is what makes the Tunets so special and distinguishable from traditional probes and enables it to produce minimum impact on the surrounding ecosystem. The robot's minimal size is about 1 meter. However, it can increase its size to that of an adult female shark if that is necessary for fulfilling certain tasks.
The Tunets will be fully autonomous. It will monitor, measure and record relevant parameters in the 3D Region of the designated underwater area. It will return to the platform after that. The Tunets will be more flexible and maneuverable than the existing probes and will have distant underwater communication.
"There are plans to create a bigger development prototype capable of operating at larger depths as well as to develop a new type of engine based on 'smart' materials like piezoelectric materials, for example, and ferromagnetic liquids, which can transform their structure under external influence. All this will help reducing sonar noises considerably and supposedly increase the autonomy of operation," Li said.
---
© Copyright 2018 TASS. All rights reserved. This material may not be published, broadcast, rewritten or redistributed.
---