---
The U.S. Navy accepted delivery of its second Expeditionary Sea Base (ESB) ship, USNS Hershel "Woody" Williams (ESB 4), Feb. 22. Delivery marks the official transfer of the ship from the shipbuilder to the Navy. ESB 4 will be owned and operated by Military Sealift Command.
---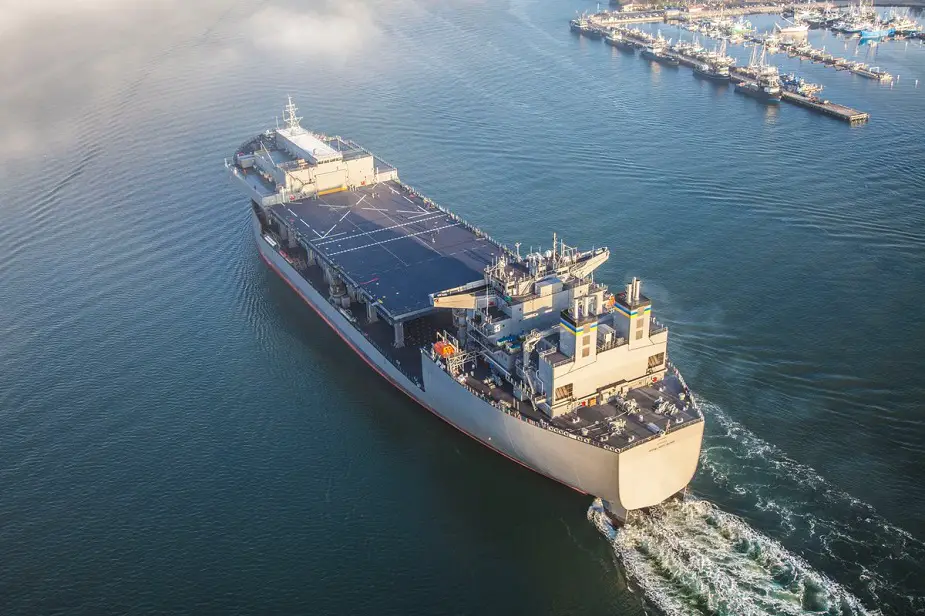 The future expeditionary sea base USNS Hershel "Woody" Williams (T-ESB 4). Photo: General Dynamics.
---
"The delivery of this ship marks an enhancement in the Navy's forward presence and ability to execute a variety of expeditionary warfare missions," said Capt. Scot Searles, Strategic and Theater Sealift program manager, Program Executive Office (PEO) Ships. "Like the ship's namesake, USNS Hershel 'Woody' Williams will exemplify the Navy's commitment to service."
USNS Hershel "Woody" Williams is named for Medal of Honor recipient, Hershel Williams. During the battle of Iwo Jima, then- Cpl. Williams bravely went forward alone against enemy machine gun fire to open a lane for the infantry. Williams continues to serve his fellow men and women in uniform through his foundation, the Hershel Woody Williams Medal of Honor Foundation, established to honor families who have lost a loved one in service to their country.
ESBs are highly flexible, modular platforms that are optimized to support a variety of maritime based missions including Special Operations Force, Airborne Mine Counter Measures operations, humanitarian support and command and control of traditional military missions. The ESBs include a four spot flight deck, hangar, and a versatile mission deck; and are designed around four core capabilities: aviation facilities, berthing, equipment staging support, and command and control assets. The ESBs will operate as the component commanders require, providing the fleet with a critical access infrastructure that supports the flexible deployment of forces and supplies.
USNS Hershel "Woody" Williams was constructed by General Dynamics NASSCO shipyard in San Diego. NASSCO is also constructing the future USNS Miguel Keith (ESB 5).
---