---
India's Indigenous Aircraft Carrier (IAC) Project was reviewed by Shri Sanjay Mitra, IAS, the Defence Secretary at Cochin Shipyard Limited (CSL) on 19 July 2018. He was accompanied by Vice Admiral Ajit Kumar, AVSM, VSM, Vice Chief of the Naval Staff, Vice Admiral D M Deshpande, AVSM, VSM, Controller Warship Production & Acquisition, ShriSatinder Pal Singh, IPS, Joint Secretary (Shipping) and other senior officers from the Indian Navy.
---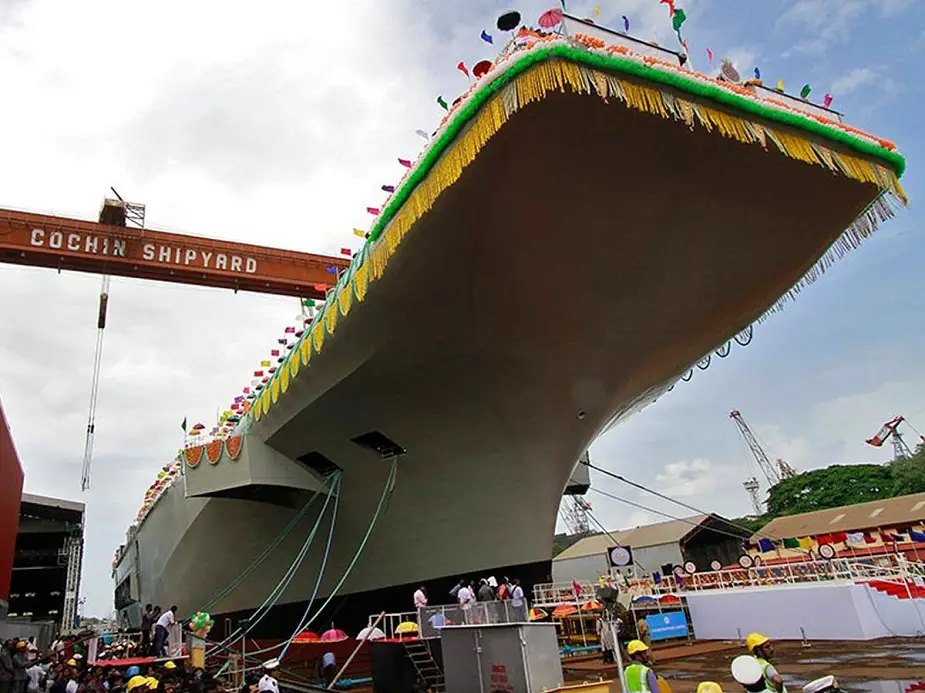 India's first indigenous aircraft carrier, INS Vikrant. File Picture via jeffhead.com/worldwideaircraftcarriers/

---
During the onboard visit, the Defence Secretary was given a first-hand briefing on the progress of IAC construction by Commodore Cyril Thomas, the Warship Production Superintendent. ShriMadhu S Nair, CMD,CSL, highlighted the shipyard's focus on outfitting and trial activities as the project enters its final phase, and re-iterated the CSL's commitment to meet the timelines for delivery of the ship.
The ship was launched in Aug 2013 and presently, the main propulsion plant, power generation equipment, deck machinery and auxiliary equipment have been installed and integrated on board. Outfitting of various aviation equipment, navigation and communication equipment, weapons and sensors are progressing. In-house trials of ship's systems by the Carrier Acceptance & Trials Team have already commenced and the sea trials are expected to commence by early 2020.

About Vikrant
India's minister of defense announced in December 2015 that the indigenous aircraft carrier INS Vikrant will be delivered to the Indian Navy in December 2018. The launch of the 37,500-tonnes, 260 metres long and 60 metres wide vessel was behind schedule by three years. Local media reported in May 2017 that the procurement delays has been resolved and the carrier's fitting-out was 62% complete, with trials of the auxiliary systems scheduled by late 2017.
Maximum speed of the ship is announced at 28 knots, the ship reported range is 7,500 nautical miles at a speed of 18 knots. INS Vikrant is set to receive a large crew complement composed of 160 officers and 1,400 sailors. The aircraft carrier will be able to accommodate 30 fighters and helicopters, including Mig-29K fighters and Ka-31 helicopters.
---