---
South Korea's Defense Acquisition Program Administration (DAPA) announced this week that a tender for twelve naval helicopters for the Republic of Korea Navy (ROK Navy) has been issued. DAPA said that it will receive proposals from potential bidders until September 28, 2018.
---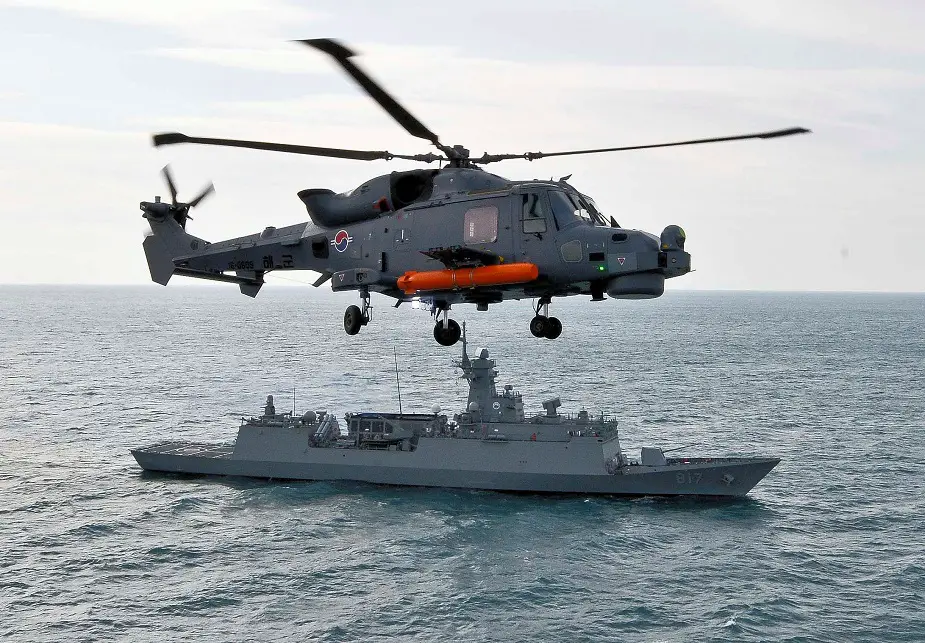 A ROK Navy AW159 Wildcat maritime helicopter conducting an ASW exercise for the first time with Incheon-class frigate Gwangju. Picture: ROK Navy
---
The ROK Navy acquired eight AW159 in 2016 in two batches. The first four were deployed in February 2017 with Incheon-class frigates.

According to DAPA, the contract vallue for the 12 new helicopters will be approximately 400 million Dollars. They are expected to be operational with the ROK Navy by 2020.
The candidates for the tender are set to be Leonardo Helicopters, the manufacturer of the AW159, Sikorsky's MH-60R and NHIndustries' NH-90NFH.
Those 12 helicopters will likely be deployed with the future surface combatants of the ROK Navy such as the FFX Batch II and Batch III frigates, the upcomming KDX III Batch II destroyers as well as the KDDX down the road.
---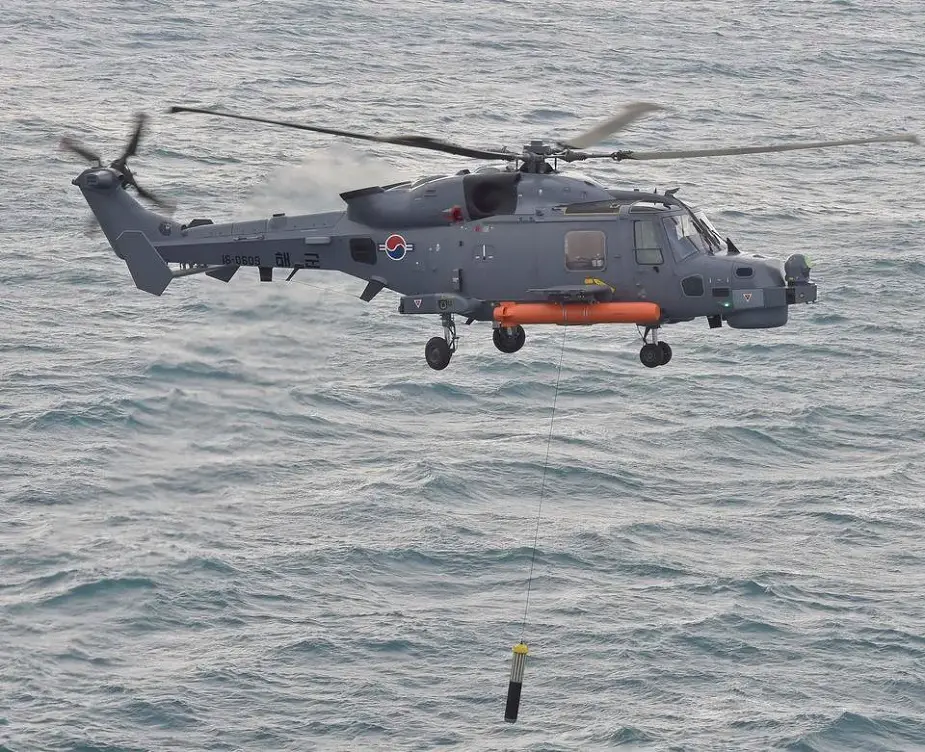 The Wildcat deploying the Thales FLASH dipping sonar

---
All 8 ROK Navy Wildcat helicopters became operational in July 2017.
According to the ROK Navy the deployment of the Wildcat in operation is expected to further enhance its ability to counter North Korean submarine threats, thereby enhancing its three-dimensional operational capability.
The AW159 is a new generation multi-role military helicopter that has now replaced Lynx helicopters in service with the Royal Navy and British Army. The Wildcat has been ordered by the Philippine Navy as well.
ROK Navy Wildcats are fitted with a Seaspray 7400E radar offering 360 degrees coverage, Thales FLASH dipping sonar, sonobuys, Blue Shark lightweight torpedoes and 12.7mm machine guns. In January 2014, DAPA announced it will equip its Wildcat helicopters with Spike NLOS missiles to provide a stand-off attack capability for engaging targets such as ground artillery and small vessels. The helicopters are expected to operate from the ROK Navy's Incheon-class guided missile / coastal defense frigates. These will be used for search-and-rescue missions, anti-submarine warfare and surveillance.
---