---
By Ben Rimland
NBC Nagasaki reports that the latest 25DD class anti-submarine destroyer, the JS Asahi, was officially delivered to the Japan Maritime Self-Defense Forces (JMSDF) at Mitsubishi Heavy Industries' Nagasaki shipyard. Yutaka Murakawa, the JMSDF chief of staff, led the commissioning ceremony in front of the ship's 220 crew members and other JMSDF officials.
---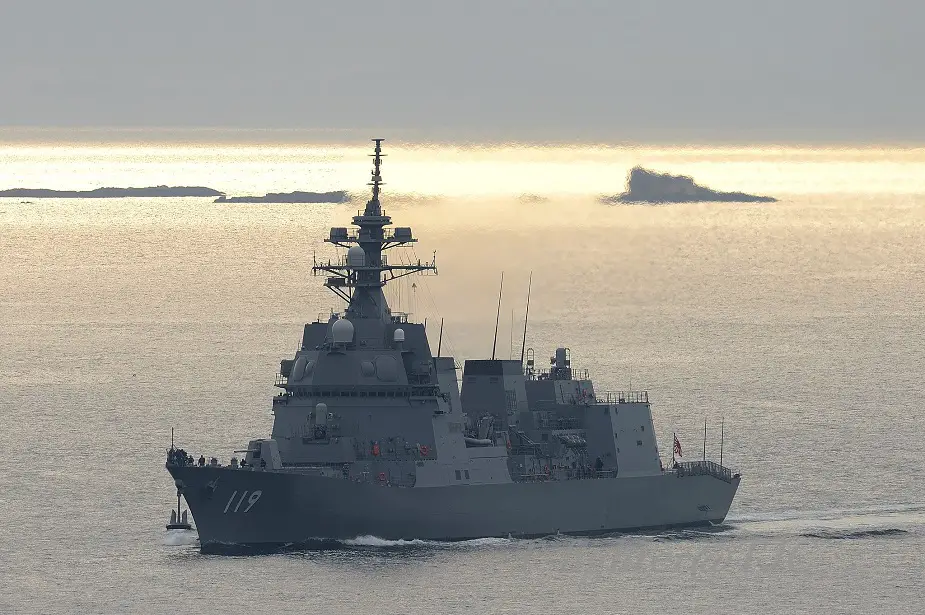 JS Asahi underway following its commissioning with the JMSDF. Picture by Japanese shipspotter @T_fighter.

---
"In order to safeguard the property and lives of the Japanese people, and to further protect the seas, territories, and airspace of Japan, you must effectively carry out the responsibilities asked of you," said chief of staff Murakawa to the assembled crew. "We hope that from today, working towards a common cause, you will diligently fulfil your duty to serve this ship with honor."

The Nikkei further reported that chief of staff Murakawa specifically cited North Korea and China in stating that "it is no exaggeration to state that Japan's security environment has become the most severe yet."

The ship is scheduled to be deployed to the JMSDF base at Sasebo. Following the delivery ceremony, approximately six months of equipment tests and crew exercises are scheduled before the ship achieves full operational status. The Asahi is the first destroyer in four years to be built at Mitsubishi's Nagasaki shipyard. After recently incurring a 250 billion yen loss on the construction of a luxury ocean liner, the destroyer contract was seen as a reversal of fortune for the struggling shipyard.
---
 JS Asahi commissioning ceremony. JMSDF pictures.

---
Based on the anti-air warfare Akizuki-class destroyer (19DD), the Asahi is 151 meters long and 18.3 meters wide, for a total displacement of 5100 tons. The class has a draft of 5.4 meters. The NBC Nagasaki report further explains that the Asahi is the first JMSDF destroyer to feature a "hybrid" COGLAG (combined gas and electric turbine) drive system, along with advanced anti-torpedo defenses and is further the first JMSDF destroyer equipped with a periscope-detecting radar system. Navy Recognition has previously covered the initial launch of the Asahi and reported on the variety of weapons systems and sensors the class is equipped with.
Ben Rimland is an independent researcher on Asia-Pacific security issues. His academic research pertains to Japanese defense policy and American security policy in Asia. He can be found on twitter at @JPNsecuritywonk
---
JS Asahi on its commissioning day. Video by Japanese shipspotter @BinmeiTube
---
25DD Specifications:
Standard displacement: 5, 100 tons
Full load displacement: 6,800 tons
Total length: 151 m
Overall width: 18.3 m
Depth: 10.9 m
Draft: 5.4 m
Propulsion system: COGLAG / 2x LM 2500 IEC gas turbine engines / 2x motors (2.5 MW / 3,400 hp) / 2x  Shafts
Maximum speed: 30 kt
Accommodation: 230 passengers
---