---
The Brazilian Navy took delivery of its first modernized AF-1C aircraft on April 23, in Gavião Peixoto. The aircraft (based on a TA-4KU Skyhawk) was received by the AF-1 / 1A Aircraft Inspection and Receiving Group following completion of the flight tests by local company Embraer.
---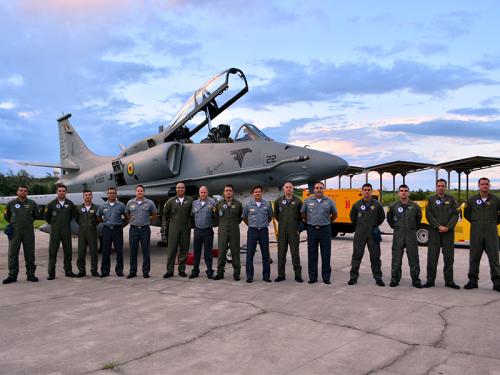 Delivery of the first modernized AF-1C aircraft at EsqdVF-1. Brazilian Navy picture.

---
Modernization and upgrade work included: the electric power generation system, the installation of a multimode radar, the change in aircraft design for a glass cockpit and the installation of a new weapons management system. It should be noted that the new mission software was entirely developed by Embraer.
This aircraft (with serial number N-1022) will contribute to the increase of the training and operational qualification of the pilots of the 1st Squadron of Intercept and Attack Aircraft (EsqdVF-1), since this is the first modernized twinseater aircraft delivered. In addition, "Falcon 1022" may participate in the various operational tasks of the Squadron, contributing to Aerospace Defense and Naval Forces protection.

The Brazilian Navy signed a contract with Embraer in 2009 to upgrade nine single-seat A-4KU to the AF-1B standard and three TA-4KU to the AF-1C standard. The first AF-1B aircraft was delivered in 2015. It has to be noted that these carrier borne aircraft, while operated by the Brazilian naval aviation, will operate from land exclusively: Brazil decided to decommission its sole aircraft carrier, the Sao Paulo, last year.
---