---
South Korean shipbuilder Hyundai Heavy Industries (HHI) started construction of the Philippine Navy's first of two future guided missile frigate. The steel-cutting ceremony was held on May 1st at the HHI shipyard in Ulsan.
---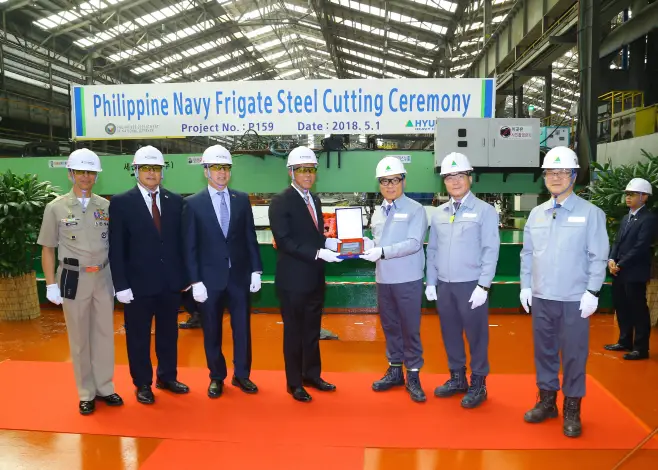 Steel-cutting ceremony for Philippines Navy first frigate at HHI Ulsan shipyard

---
The ceremony was attended by Hyundai Heavy Industries President Hwan-Goo Kang, Philippines Defense Secretary Delfin Lorenzana, Philippine Navy Chief of Staff Vice Admiral Robert Empedrad, and Defense Undersecretary Raymundo Elefane.

Hyundai Heavy Industries is set to launch the vessel in May next year and deliver it to the Philippine Ministry of Defense in the second half of 2020. HHI will start construction on the second frigate in September this year and deliver it in the first half of 2021. The contract for the two frigates was awarded to Hyundai Heavy Industries in October 2016.
---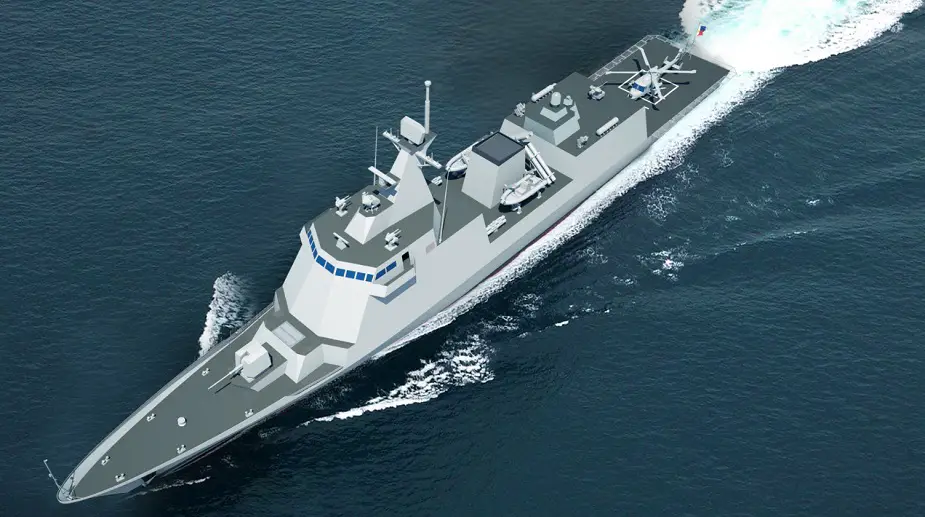 Philippines Navy future frigate

---
These new frigates are variant of Hyundai's own HDF-3000 FFX-I Multipurpose Frigate. According to specifications provided by Hyundai, the Philippines design features a length of 107m, a beam of 12m and a hull draught of 4m. The platform has a standard displacement of approximately 2,600 tonnes.The propulsion consists in four diesel engines in Combined Diesel and Diesel (CODAD) configuration.

The frigate has a range of 4500 nautical miles, a maximum speed of 25 knots and is capable of carrying ASuW, AAW and ASW missions. According to HHI, it is designed to have excellent operational performance and survivability, especially in rough sea conditions such as typhoons and tropical climate.

Servowatch Systems' scope of supply comprises an IPMS control and monitoring package for the vessels' propulsion plant, electric power plant, auxiliary/ancillary system. Battle Damage Control System (BDCS) and On-board Training System (OBTS) are also to be included in scope of IPMS.
The frigates sensor systems will consist in:
» Hanwha Systems Naval Shield Baseline 2 Integrated combat management system (CMS)
» Hensoldt TRS-3D Baseline D multi-mode phased array C-band Radar
» Airbus MSSR 20001 Identification Friend of Fore (IFF) System
» Leonardo Selex ES NA-25X Fire Control Radar
» Harris Model 997 medium frequency active/passive ASW hull mounted sonar
» Hanwha Systems Link P Tactical Data Link (derived from Link K)
» Elbit Systems Elisra NS9300A Electronic Support Measure (ESM)
» Safran PASEO NS Electro-Optical Tracking System (EOTS)
» Servowatch Integrated Platform Management System
The frigates weapon systems will consist in:
» 1x Hyundai Wia 76mm main gun
» 1x Aselsan SMASH 30mm RWS as secondary weapon
» 4x LIGNex1 SSM-700K C-Star anti-ship missiles
» 2x MBDA Simbad-RC VSHORAD launchers (2x Mistral missiles each)
» 2x SEA Ltd. TLS-TT Shipboard tirple Torpedo Launching System for LIGNex1 K745 Blue Shark torpedoes
» 8x vertical launch system (VLS) cells for surface to air missiles (to be determined)
» 2x Terma C-Guard decoy launchers

The frigates are fitted with a helicopter pad and hangar to accommodate an AW-159 Wildcat Anti-Submarine Helicopter.
---