---
China has installed anti-ship cruise missiles and surface-to-air missile systems on three outposts in the South China Sea according to several media outlets (the first one being U.S. news network CNBC), citing U.S. intelligence sources.
---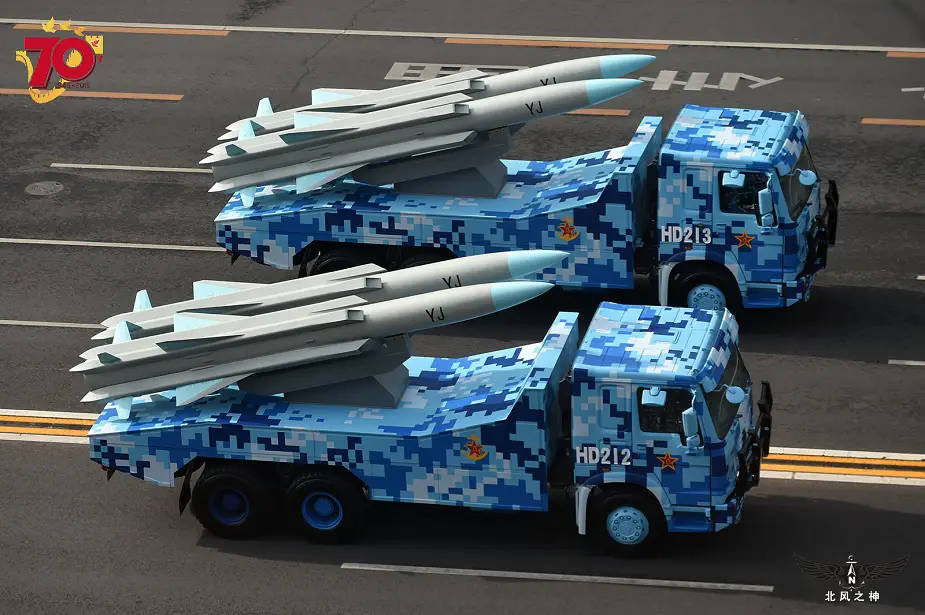 The YJ-12 is a next generation Chinese supersonic anti-ship missile. It was unveiled for the first time during the 2015 victory day parade.
---
According to the reports, the land-based anti-ship cruise missile is the YJ-12B with a range of 295 nautical miles (545 Km). The HQ-9B is a surface-to-air missile that can engage aircraft out to a distance of 160 nautical miles (300 Km). Note that these range figures may be over estimated (more details below). The missiles are on Fiery Cross Reef, Subi Reef and Mischief Reef in the Spratly Islands. The missiles were moved to the outposts within the past 30 days. China has also deployed jamming equipment to the islands.

About YJ-12 anti-ship missile
The YJ-12 (YingJi meaning Eagle Strike) was designed by the Third Academy of the China Aerospace Science and Industry Corporation "CASIC" (HiWING Mechanical & Electrical Technology Corporation). It is fitted with liquid-fueled ramjet (with a combined booster and combustion chamber).
YJ-12 first picture emerged in 2013. The missile appears somewhat similar in design to the Russian Kh-31 air to surface missile or to the US made GQM-163A Coyote which is a supersonic sea skimming target. YJ-12A is the surface launched variant and YJ-12B is the land based variant. Its reported speed is around Mach 2. According to Chinese sources, the YJ-12 (air launched variant) maximum range is around 380 kilometers (the distance varies depending on launch altitude) and its terminal attack altitude is 15 meters. Finally the missile would be about 6,3 meters long with a diameter below 0,756 meters. YJ-12 was unveiled during the 2015 victory day parade.

---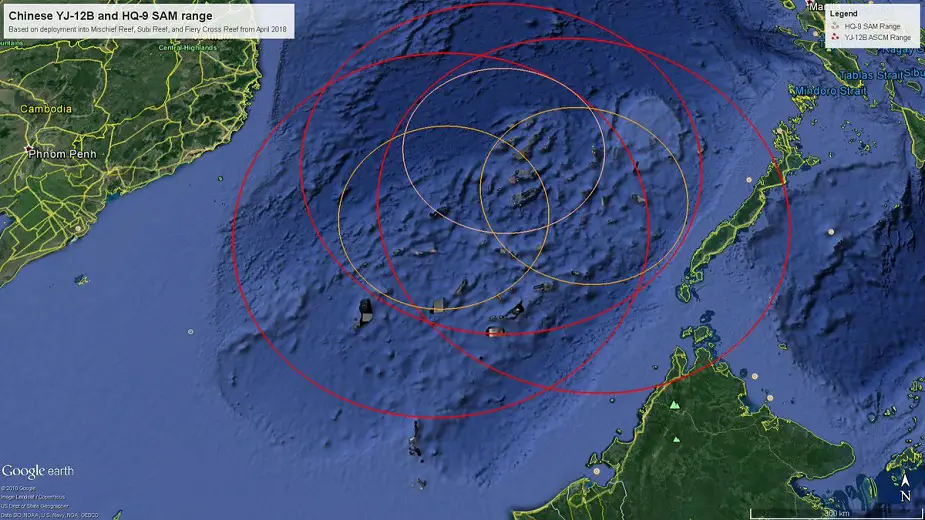 Range of the YJ-12B anti-ship missiles and HQ-9B SAMs when deployed on the three outposts: Mischief Reef, Fiery Cross Reef, and Subi Reef.
Google Earth image via twitter user Dr. Malcom Davis
---
White House spokeswoman Sarah Sanders said during a press briefing: "We're well aware of China's militarization of the South China Sea. We've raised concerns directly with the Chinese about this and there will be near-term and long-term consequences."
---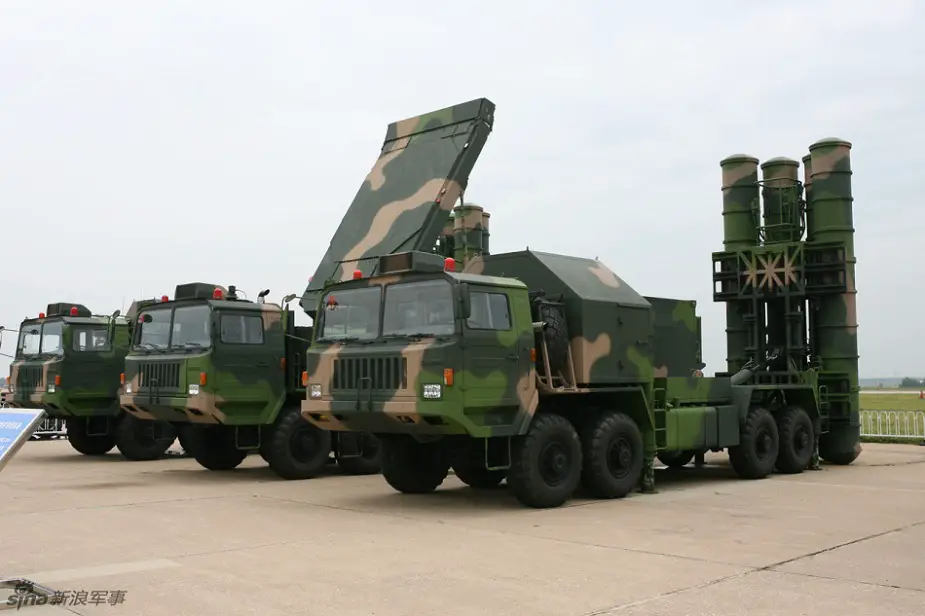 HQ-9 air defense missile system
---
About HQ-9 air defense missile system
The HQ-9 is a medium-to-long range air defense missile system designed and manufactured in China by the Defense Company CPMIEC (China Precision Machinery Import & Export Corporation). The HQ-9 system is designed to track and destroy aircraft, cruise missiles, air-to-surface missiles, and tactical ballistic missiles. The launcher erector truck (TEL) has four missile containers. The missile is armed with a 180 kg warhead, has a maximum speed of Mach 4.2. and has a maximum range of 200 km up to an altitude of 30 km. The latest HQ-9B variant comes with extra range and dual seeker.
---