---
Since early April, nearly 350 French Navy sailors and their aircraft are deployed in the Norfolk area, home of the Carrier Air Wing 8. As the first (land-based) phase of Chesapeake mission 2018 comes to an end, the Marine Nationale (French Navy) released several pictures showing how its "sailors of the sky" maintain their skills and confirm their high level of interoperability with their American allies.
---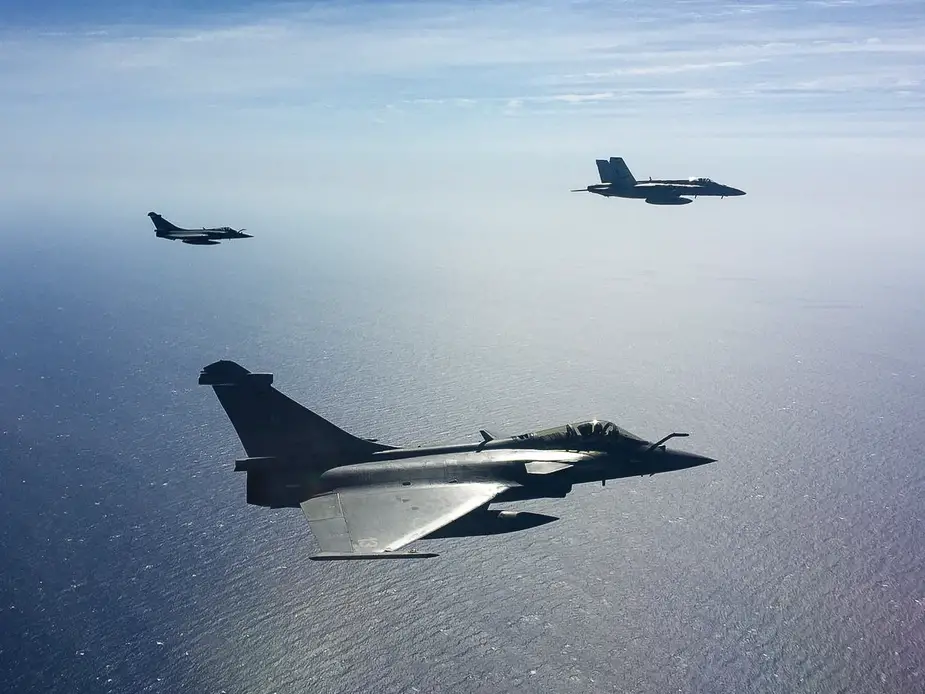 Joint training flight between a U.S. Navy F/A-18E Super Hornet and two French Navy Rafale M. Norfolk area, April 26, 2018. Marine Nationale Picture

---
Following nearly a month of deployment, many joint flights have already been conducted. According to the French Navy, by April 26th, a total of 190 sorties had already been completed (meaning 360 flight hours). These operational trainings cover the full spectrum of typical carrier aviation missions: air combat, area defense, anti-surface warfare (anti-ship) and close air support (of troops on the ground). These flights will continue throughout the deployment and their difficulty will increase, including during the period on board the US aircraft carrier.
As with any operational deployment, the success of flights largely depends on the work of the technicians. All specialties are present to ensure the smooth running of the activity: avionics, aircraft handlers, ordnancemen (known as "boom" in the French navy), computer scientists etc. The challenge is simple for these sailors: to make sure, as they do on the aircraft carrier Charles de Gaulle, that the aircraft are available for the mission and that no problem occur during their preparation and implementation.
The adaptation is permanent because each detail counts to keep pace with the flights. For example, it was necessary to reorganize the "hot refueling" maneuver (refueling while the engines are running) because French Rafale M and American F-18 are refueled on opposite sides.
The ordnancemen of the airborne group are busy as well: Every day, they prepare the Rafale M according to  the upcoming training mission. The twenty or so "boomers" deployed in the United States are doing a job quite similar to the one they are used to do in France. More than 300 shells were fired during joint training with US pilots as well as several Laser Guided Training Round bombs (LGTRs).
---
---
The second phase of Chesapeake Mission 2018 is about to start. It will take place at sea aboard the nuclear-powered aircraft carrier USS Georges H. W. Bush.
The aircraft carrier left Norfolk naval base on May 7th. The Marine Nationale airwing started carrier qualifications today. It will then be deployed on the aircraft carrier for a couple of weeks, conducting a set of complex exercises with U.S. Navy aircraft.
---