---
The Project 20385 missile corvette Gremyashchiy has left the fitting-out quay of the Severnaya Shipyard in northwest Russia and headed for the Baltic Sea to complete the shipbuilders' trials, on Tuesday.
---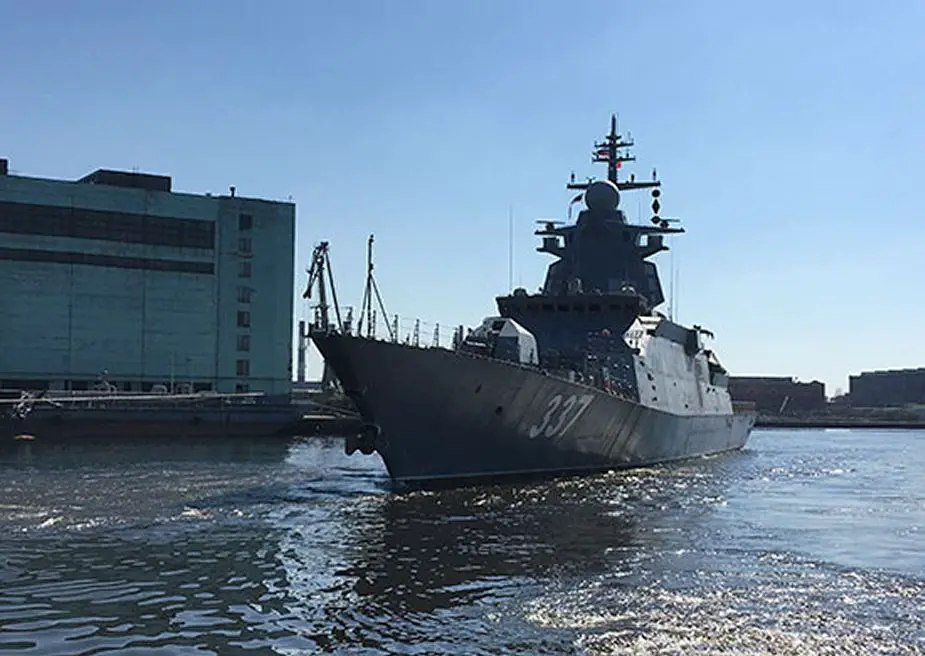 Gremyashchiy missile corvette (Picture source: MoD of the Russian Federation)
---
"The shipbuilders' sea trials will last about three months. Specialists aboard the Gremyashchiy will check the operation of all the shipborne systems and special equipment in the operational and combat modes," the spokeswoman said. Specifically, the Shipyard's specialists will test radar and sonar systems, hold the trials of the aerial platform, special equipment and armament, the spokeswoman noted.
Several days later, the corvette will be joined by the frigate Admiral Kasatonov. At the stage of shipbuilders' sea trials, the main goal of the warships' delivery teams comprising the Shipyard's representatives, the designers of the frigate and the corvette and basic contractors, is to find and eliminate flaws and prepare the warships for state trials scheduled for December.
After the shipbuilders and state trials are over, the warships will be delivered to the Russian Navy. The corvette Gremyashchiy will enter service with Russia's Pacific Fleet while the frigate Admiral Kasatonov will join the Northern Fleet.
The Gremyashchiy is the Project 20385 lead corvette laid down on February 1, 2012, and floated out in June 2017. The corvettes of this Project developed by the Almaz Central Marine Design Bureau are designated to detect and destroy enemy submarines and surface ships, provide for troop landing and cope with numerous green-water tasks.
The corvette Gremyashchiy will become the first warship in the Pacific Fleet to carry Kalibr cruise missiles. The warship is expected to enter service by the end of 2019. Project 20385 envisages a hangar for a Ka-27 helicopter.
The Gremyashchiy-class corvettes differ from their predecessors of the Steregushchiy class by greater dimensions and displacement. They have a steel hull and composite superstructure, with a bulbous bow and nine watertight subdivisions. Compared with the Soobrazitelny, Boikiy, Sovershennyy and Stoikiy ships, which are fitted with Redut air defense VLS system of 12 launchers on the bow, these new ships are equipped with a UKSK VLS system comprising 8 launchers for the Kalibr or P-800 Oniks anti-ship/cruise missiles instead. The Redut VLS system with 16 launchers has been replaced on the stern. Another difference is the lack of the aft mast above the helicopter hangar and single integrated mainmast that no longer includes separate open shelves for artillery and navigation radars.
---