---
Upgraded Ovod-class small missile ships of project 1234 will be able to detect the adversary by the electronic trace. They will detect them by radar emission, radio signals and emissions of other onboard systems. The unique capabilities are provided by a new passive electronic intelligence station, the Izvestia daily writes.
---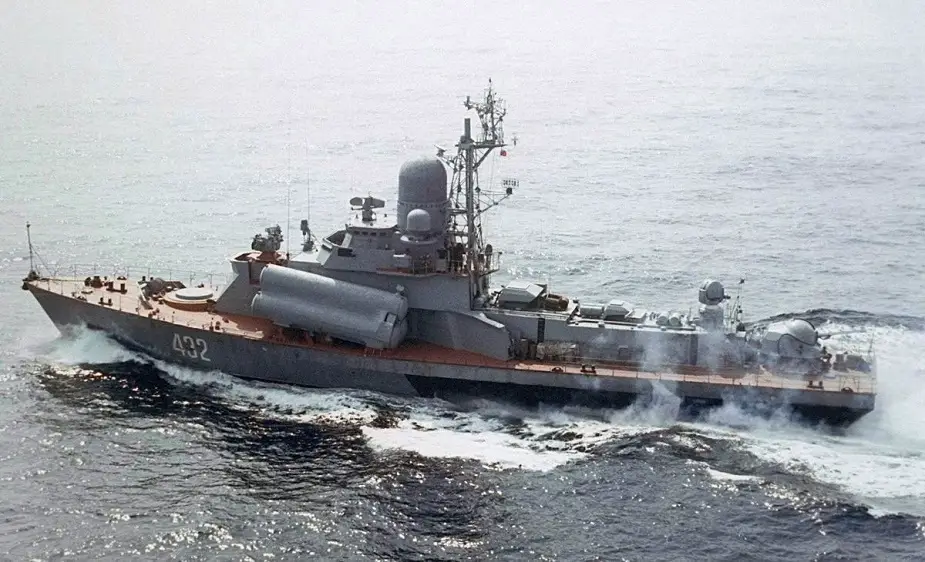 Project 1234 Ovod class corvette (Picture source: US military)
---
The first such station has been installed on the Smerch missile ship. It replaced Titan complex, the Navy told the newspaper. The station has been tested. Its name and tactical-technical characteristics are not disclosed.
The new station does not emit signals. A special receiver analyzes signals reflected from other objects. The signal configuration of most modern warships is well known today and it is easy for the station to determine the class of the craft without switching on the main radar.
Theoretically, small missile ships of project 1234 with decreased radar signature can approach even an aircraft carrier to a strike distance and destroy it. They are armed with upgraded Kh-35 missiles with a range of 260 km. The ship does not need to have the exact target coordinates. Suffice it to fire Kh-35 to the area where unknown radars or other electronic warship systems are operating. The projectile with a homing warhead will detect and destroy the target itself.
Small missile ships of project 1234 were created in 1960s by Almaz Design Bureau in St. Petersburg. The Ovod carries two launchers for six Malakhit antiship missiles, Osa-M antiaircraft complex and 76mm AK-176 artillery gun (or two 57mm AK-725 guns). Some modifications have additional 30mm AK-630M guns.
Warships of the project are actively upgraded at present. They receive new electronics and engines and are rearmed with antiship Kh-35 missiles. Theoretically, the ships can carry supersonic Onix antiship missiles to fight surface naval forces and solo warships in conditions of major fire and electronic counteraction.
The Navy operates 12 latest modifications of Ovod-class small missile ships of project 12341. The Pacific fleet has most of them. The Smerch, the Moroz, the Inei, the Razliv built in 1985-1991 operate in a single unit in charge of defending the water zone, the Izvestia said.
---
© Copyright 2019 TASS. All rights reserved. This material may not be published, broadcast, rewritten or redistributed.
---