---
The Russian Navy maintains high combat readiness, Navy Commander-in-Chief Admiral Nikolai Yevmenov told the Krasnaya Zvezda newspaper.
---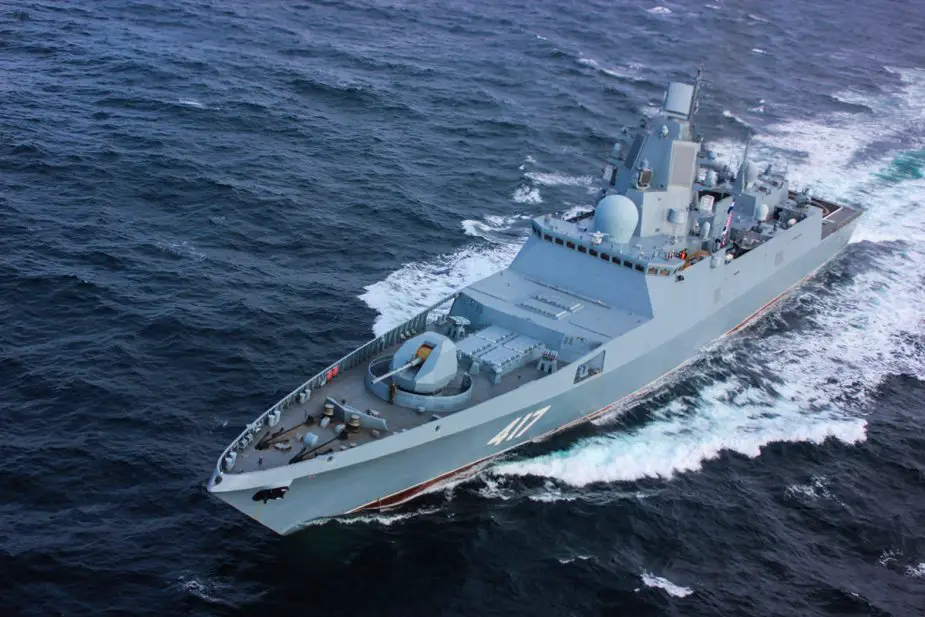 Admiral Gorshkov frigate (Picture source: Wikipedia)
---
"The Russian Navy is being armed with the latest weapons and maintains a high combat readiness. The growing capabilities of the Navy are confirmed by numerous drills also at the general and inter-arm level. In December - July 2019 over 200 warship and submarine crews were trained for combat missions, as well as over 40 tactical groups. Warships and submarines spent over 500 sailing days at sea in the winter training period. The naval aviation trained over 100 crews with a total flight record of over 13,000 hours. Coastal and ground forces held 80 field exercises and over 3,000 live-fire drills. The indicators tend to grow. We held nearly 4000 combat exercises with missiles, artillery and underwater weapons and over 150 tactical and command-staff exercises," he said.
The major 2019 event was the round-the-world voyage of the Admiral Gorshkov frigate, the Elbrus supply vessel, and the Nikolai Chiker rescue tugboat.
"The Russian fleet has actually resumed round-the-world sorties. The warships fulfilled missions in the Eastern Mediterranean, sailed the Suez Canal to the Indian Ocean and further to the Pacific Ocean, crossed the Atlantic and arrived in the Baltic Sea. They worthily represented Russia at the festivities devoted to the 70th anniversary of the Navy of the Chinese People's Liberation Army. The warships called at ports of seven countries. It was the first such sortie for the Admiral Gorshkov. The group sailed over 35,200 nautical miles," Yevmenov said adding the experience will be analyzed and integrated into the Navy training program.
At present batch construction of large-displacement green-water warships and an upgrade of existing projects go along the serial construction of blue-water ships with precision weapons. The Russian Navy maintains at a proper level the potential of its strategic nuclear submarines in the Northern and Pacific fleets. "Borey-class strategic submarines and Yasen-class multirole nuclear submarines are being built," Yevmenov said.
The non-nuclear submarine component is also developed. A series of diesel-electric submarines of project 636.3 was built for the Black Sea fleet and the construction of the same submarines for the Pacific fleet has begun. "The Russian underwater forces are armed with the latest highly automatic Lada-class diesel-electric submarines of project 677," Yevmenov said.
---
© Copyright 2019 TASS. All rights reserved. This material may not be published, broadcast, rewritten or redistributed.
---