---
China's Navy, along with Thailand's one, launched a joint training exercise at a military port in Zhanjiang, in South China's Guangdong Province, on May 02.
---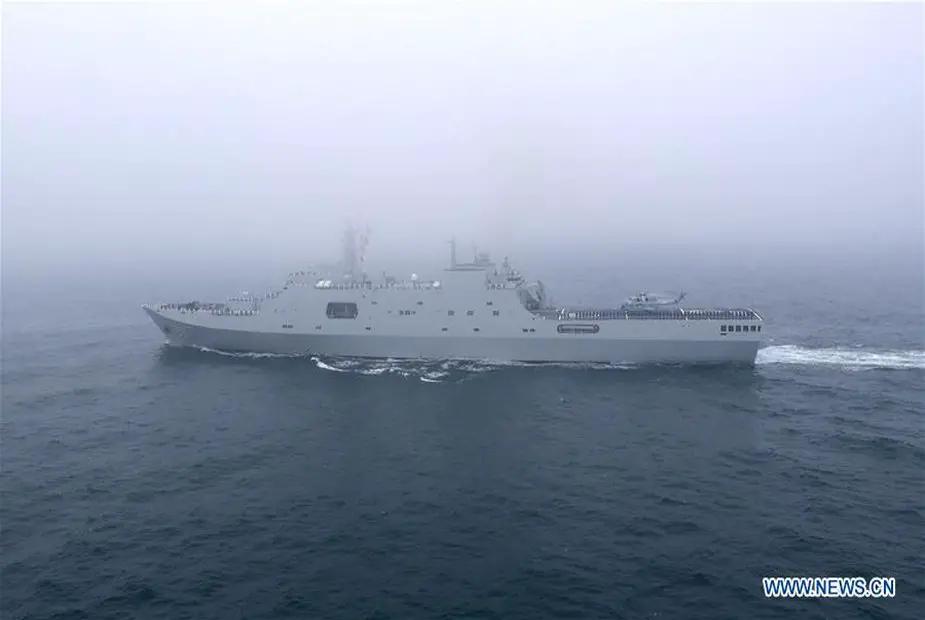 Aerial photo of the landing ship Wuzhishan of the Chinese PLA Navy, taken during the parade of their 70th anniversary (Picture Source: Xinhua)
---
During the week, Chinese and Thai naval forces will exercise shooting, grappling, helicopter rappelling and combat tactics at the port area during the first four days, while the follow-up maritime exercise will focus on more than 10 subjects including communication, replenishment-at-sea, joint rescue and amphibious landing operations.
Various frigates from both sides and the Chinese landing ship Wuzhishan will take part in the training. The joint training, which does not target any third party, aims to improve friendly and pragmatic cooperation between the two naval forces and enhance their capability to cope with maritime security threats, said an official statement.
Paisan Meesri, commander of Thai participating forces, said the exercise will strengthen the capability in safeguarding maritime security, and is expected to enhance mutual trust and communication between the two naval forces.
His Chinese counterpart, Huang Fengzhi, also noted that the program will further deepen the friendship and mutual trust, and lay a solid foundation for jointly fulfilling diversified tasks and international obligations.
---