---
Chinese and Russian naval ships participating in the "Joint Sea-2019" exercise left the port of Dagang in Qingdao, east China's Shandong Province for the designated drill area on the morning of May 01. There were two breakthroughs worth paying attention to in the maritime live-fire drills.
---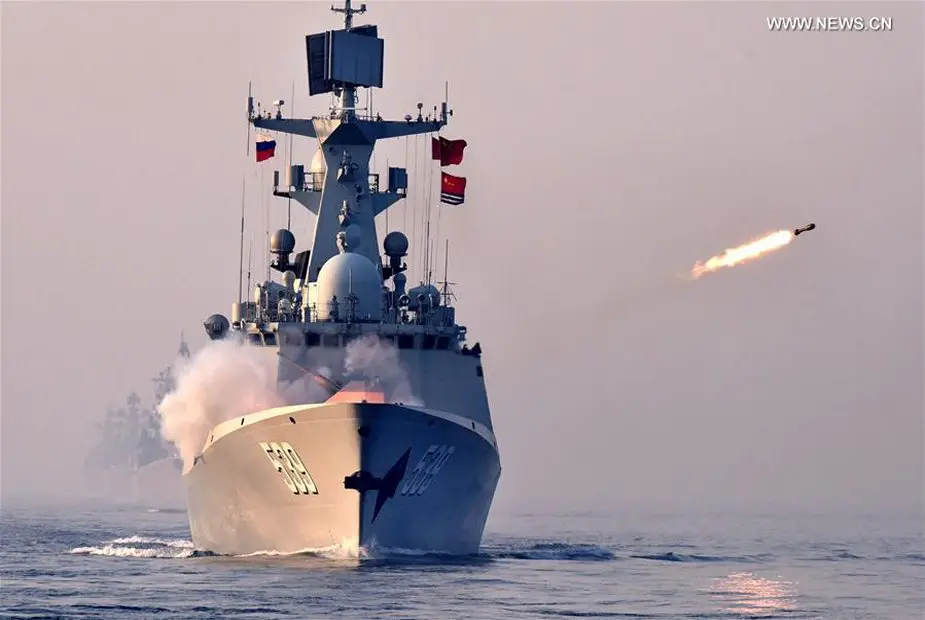 Chinese guided-missile frigate Wuhu (Hull 539) fires a depth-charge rocket against mock sea target on May 03 (Picture Source: Xinhua/Li Ziheng)
---
First of all, it was the first time that the submergence rescue vehicles of the two navies docked each other's submarine and actually transferred the sailors out. Secondly, it was the first time that short-range ship-to-air missiles had been used during such live-fire joint drills.
Carrying out in-depth military cooperation in the field of submergence rescue requires not only mutual-trust in each other's rescue equipment and capability, but also a considerable degree of mutual-openness on the submarine performance parameters. The Chinese Navy's integrated submarine rescue ship Haiyangdao (Hull 864) and the Russian Navy's search-and-rescue vessel Igor Belousov took part in the drill.
As for the live-fire exercises, Russian Pacific Fleet's guided-missile cruiser Varyag, the anti-submarine warship Admiral Vinogradov, the anti-submarine destroyer Admiral Tributs and corvette Sovershennyy, as well as the PLA Navy's guided-missile destroyers Harbin (Hull 112), Changchun (Hull 103) and guided-missile frigates Wuhu (Hull 539) and Handan (Hull 579), participated in the drill, according to news released by Russia's news agency Sputnik.
---